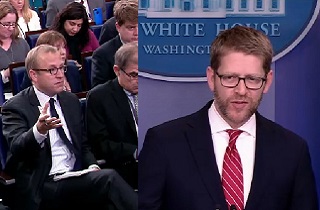 On the heels of lower-than-expected job growth in today's jobs report, ABC News White House Correspondent Jonathan Karl tried to get White House Press Secretary Jay Carney to accept blame for the numbers on President Obama's behalf. At Friday's daily briefing, Karl noted that the White House consistently touts the President's policies as deserving of credit for job growth over the past few years, and asked if those new policies are to blame for December's weak numbers.
"Back to the jobs numbers, Jay," Karl began, "I seem to remember you at the podium, not long ago showing us charts of job growth over the last couple of years, the implication, taking some credit, the White House taking some credit for the President's policies. Now we have this jobs report, I mean, barely treading water, 74,000 jobs created, and probably more ominously, the workforce participation rate, you're down at a low for almost 40 years or so."
"Pretty much where it's been since 2009, but sure," Carney interrupted. In December of 2009, the participation rate was at 64.6%, 1.8% higher than the current rate.
"So, does the White House, does the President's policies, have anything to do, and are to blame at all for this jobs report?" Karl asked.
"Jon, as I think you note, when we talk about the monthly jobs reports, we always begin with the fact that whether it exceeds expectations, or comes in below expectations, there is more work to do, and this report is no different," Carney said, and began to point out that it does represent "46 consecutive months of private sector job creation, 8.2 million jobs…"
"Yeah, but 74,000 jobs is barely… anything in an economy…" Karl interrupted.
Carney continued, noting that the jobs report underscores the need for the President to work with Congress to continue to improve the economy, and pointed out that the unemployment rate is at 6.7%, compared to a high of 10% in 2009. "Despite the drop, it is too high," Carney said,"which is why we have to keep working, and have this as our focus, and not get hung up over ideological fights."
"But do you see this as an ominous jobs report?" Karl said.
"What we've seen generally, over recent months, has been largely positive economic data," Carney replied, and advised Karl to check with some economists for a "broader macro picture of where we are economically."
Here's the clip, from The White House:
Have a tip we should know? tips@mediaite.com