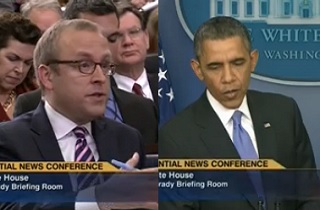 On Friday afternoon, President Obama delivered an end-of-year press conference, prior to his much-needed vacation in his native Hawaii. ABC News Chief White House correspondent Jonathan Karl reminded the President of the "tough year" he's had, his current low poll numbers, and the problems with the rollout of Obamacare, and asked him "What do you think has been your biggest mistake?"
"It's been a tough year," Karl said. "You may not want to call it the worst year of your presidency, but it's clearly been a tough year. The polls have gone up and down, but they are on a low point right now. What I'm asking you, you've acknowledged the difficulties with the health care rollout. When you look back, and you look at the decisions that you have made, and what you did, what you didn't do, for you, personally, what do you think has been your biggest mistake?"
"With respect to health care specifically, or just generally?" the President asked.
"The whole thing," Karl said.
As it turns out, the President's answer was both. He detailed the problems with the rollout of Healthcare.gov, and admitting that "Since I'm in charge, obviously we screwed it up."
The President added that "Part of it, as I have said before, had to do with how IT procurement generally is done," and that "part of it obviously has to do with the fact that there were not clear enough lines of authority in terms of who was in charge of technology, and cracking the whip on the whole bunch of contractors."
President Obama also took the question as an opportunity to express hope for the new year, that perhaps the fallout from the government shutdown might wake Washington up to the need to get things done.
"The end of the year is always a good time to reflect and see what you can do better next year," the President concluded. "That's how I intend to approach it. I'm sure that I will have even better ideas after a couple of days of sleep and sun."
Here's the clip, from C-Span:
Have a tip we should know? tips@mediaite.com