Jon Karl Asks White House Spokesman 'Is There Anyone the President Wouldn't Shake Hands With?'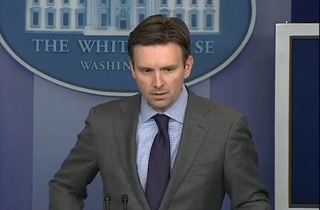 Among several tangential matters from Nelson Mandela's memorial service that are receiving a lot of media attention, President Obama's handshake with Cuban President Raul Castro came up at Wednesday's White House daily briefing. ABC News' Jon Karl asked several questions that Press Secretary Jay Carney and spokesman Ben Rhodes answered on Air Force One yesterday, but also asked Deputy Press Secretary Josh Earnest for reaction to Sen. John McCain's (R-AZ) Hitler-related criticism, and whether there is anyone the President would not shake hands with?"
The President's handshake with Castro, along with a photo he took with several other world leaders and the event's fraudulent sign-language interpreter, have received more coverage than the memorial itself, and that trend continued at today's briefing. Karl began by asking, on camera, several questions that were covered at yesterday's off-camera Air Force One gaggle with Jay Carney and Ben Rhodes, transcripted here (via The White House):
Q The handshake with Raul Castro, was that by happenstance or was it planned, and what did they talk about?

MR. RHODES: Nothing was planned in terms of the President's role other than his remarks. So the rest of it, of course, was simply his presence at the ceremony.

He was focused above all on paying tribute to Nelson Mandela. When he went to the podium, he shook hands with everybody on his way to speak. He really didn't do more than exchange greetings with those leaders on his way to speak; it wasn't a substantive discussion. But I think the President's focus was on honoring the legacy of Nelson Mandela, as was the case with many leaders.

…Q And just for the record, Alan Gross didn't come up in the conversation with Castro, correct?

MR. RHODES: No, again, they didn't — as those of you who saw, I think it was just an exchange of greetings as he was making his way through the podium up to speak.

Q But is it the President's desire to try to move toward a different sort of relationship with Cuba anyway? And in terms of talking about honoring Nelson Mandela, Nelson Mandela for years, dating back to the Clinton administration, was part of the United States to relax its approach to Cuba and do it in a different way. And can you talk about that?

MR. RHODES: Look, as a general matter, we have taken a different approach in some important respects in relation to Cuba. The President lifted the prohibition on family travel and remittances. He increased licensing for travel and engagement with Cuba. We're in talks on issues associated with migration that, again, I think allow for there to be greater connectivity particularly among Cuban Americans and Cuba. At the same time, we continue to have the same grave concerns about both the human rights situation in Cuba and Alan Gross, who we believe should be released immediately so he can return to his family.
Karl also asked Earnest for his reaction to Sen. McCain's remarks, and other criticism. "People say that the President shouldn't have given Castro the opportunity to have a handshake with the leader of the United States," Karl said.
Earnest noted, again, that the President shook hands with everyone who was on the stage, and said that it was a "dangerous and unwise thing to do in public" to attempt to "draw connections between recent political events and the terrible reign of Adolph Hitler," adding that there used to be a principle that "partisan politics stop at the water's edge, and it's unfortunate that we did see a number of Republicans, yesterday, who criticized the President for a handshake at Nelson Mandela's funeral."
"Is there anybody the President would not…is there any world leader the President would not shake hands with?" Karl began. "I mean, if Assad had been on that stage, if Kim Jong-Un had been on that stage?" he continued. "I mean I'm trying to gauge the principal, he shook hands with everybody on the stage. I mean, is there any… anybody he wouldn't?"
Earnest declined to entertain the "difficult hypothetical."
Here's the clip, via The White House:
Have a tip we should know? tips@mediaite.com