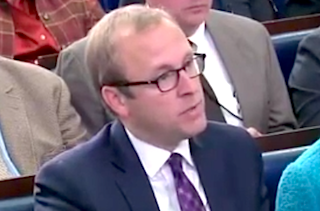 It appears that at least one member of the White House press corps was watching The Daily Show last night. Echoing arguments made by Jon Stewart about President Barack Obama's change of heart on unilateral immigration action, ABC News' Jonathan Karl asked Press Secretary Josh Earnest if the president still believes he's not the "emperor" of the United States.
"Does the president still stand by what he said last year when he said, "I am not the emperor of the United States, my job is to execute laws that are passed," is that still operative?" Karl asked during Tuesday's briefing.
"Absolutely," Earnest replied.
Karl went on to press Earnest over the comments Obama made to Telemundo's José Díaz-Balart (now an MSNBC host) in September 2013. "If we start broadening that, then essentially I'll be ignoring the law in a way that I think would be very difficult to defend legally," Obama said at the time of a potential move to expand deportation protection to parents of DREAMers. "So that's not an option."
Now, with the president poised to do just that through executive action, potentially protected five million undocumented immigrants from deportation, Karl asked if Obama still believes "ignoring the law" is "not an option."
Earnest opted not to "get ahead of" any announcements by Obama, but did say that "since this interview aired, the president did direct the attorney general and the secretary of Homeland Security to conduct a review of the law to determine what, if any, authority he could use to try to fix some of the problems that House Republicans have refused to address."
When Karl again asked if Obama "still stands by what he said in that interview in September of last year," he could not get a yes or no answer from Earnest. Instead, the press secretary would only say that "some things have changed."
Watch video below, via The White House:
And watch video of Obama's 2013 comments below, via Telemundo:
[Photo via screengrab]
— —
>> Follow Matt Wilstein (@TheMattWilstein) on Twitter
Have a tip we should know? tips@mediaite.com