Jon Karl Grills Earnest: Is Climate Change Really a Bigger Threat Than Terrorism?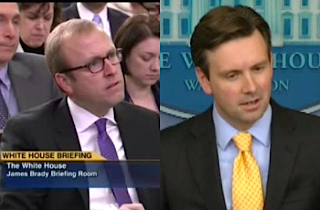 During his interview with Vox, published online Monday, President Barack Obama said he believes the media "absolutely" overstates the threat of terrorism compared to longer-term problems like climate change and used the word "random" to describe last month's attack on a kosher deli in Paris. At today's White House press briefing, ABC News' Jonathan Karl pressed Press Secretary Josh Earnest to explain what exactly the president was trying to say.
Earnest began by describing how the threat of terrorism for ordinary Americans has changed since 9/11 (though, for some reason, he referred to it as September 1, 2011). "Because of actions that have been taken by the previous administration and this administration, terrorist organizations no longer have that same capacity and that means that the risk that is facing the American people is different," he said.
"Is the president saying, as he seems to be implying here, that the threat of climate change is greater than the threat of terrorism?" an incredulous Karl asked.
"The point that president is making is that there are many more people on an annual basis who have to confront the impact, the direct impact on their lives of climate change or on the spread of a disease than on terrorism," Earnest replied, repeating some variation of that statement four times as Karl continued to demand a yes or no answer on whether Obama believes climate change is a bigger threat than terrorism for Americans.
RELATED: Scandal Star Takes Aim at Obama's Comments on 'Random' Acts of Terror
Next, Karl moved on to Obama's statement about "violent, vicious zealots who behead people or randomly shoot a bunch of folks in a deli in Paris."
"I mean, this was not a 'random' shooting of a bunch of folks in a deli in Paris. This was an attack on a kosher deli," Karl said. "Does the president have any doubt that they attacked that deli because there would be Jews in that deli?"
"The adverb that the president chose was used to indicate that the individuals who were killed in there terrible tragic incident were killed, not because of who they were, but because of where they randomly happened to be," Earnest said, adding, "They were not targeted by name, this was the point. Again, Karl asked Earnest the same question several times before hitting an impasse.
At that point, Earnest moved on to Ed Henry from Fox News, who picked up right where Karl left off.
Watch video below, via C-SPAN:
And watch video of Obama's comments below, via Vox:
[Photo via screengrab]
— —
>> Follow Matt Wilstein (@TheMattWilstein) on Twitter
Have a tip we should know? [email protected]