Jon Karl Grills Earnest: 'Mistake' for Obama to Eat Cheeseburgers During World Crises?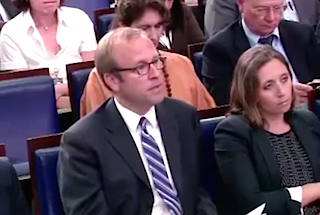 Late last week, as news began to break about the downed Malaysia Airlines plane in Ukraine and Israel's ground offensive into Gaza, President Barack Obama started taking heat — mostly from conservative media — for continuing his fundraising schedule in Delaware. And even worse than that, he stopped by a local burger joint for lunch.
"As Ukraine Crisis Unfolds, Obama Presses Ahead with Burger Photo Op, Infrastructure Speech, Dem Fundraiser," Town Hall's headline read. "Obama Literally Out to Lunch During Ukraine Downed Passenger Plane Crisis," Breitbart's declared.
During Monday's White House Press Briefing, ABC News correspondent Jonathan Karl asked Press Secretary Josh Earnest if it was a "mistake" for President Obama to continue on with "what looked like a campaign schedule" and proceed with "ordering cheeseburgers" before making his initial statement about passenger jet crash.
"It was not," Earnest said, outlining the behind-the-scenes calls Obama made to the Ukrainian president and Malaysian prime minister and the Dutch prime minister throughout the day. "What the president's focused on is his ability to do his job," he said.
"If there were a requirement for the president to change his schedule so that he could attend to this urgent priority and fulfill his responsibilities as commander-in-chief, we would have not hesitated to make that change," Earnest said.
In other words, Obama is capable and walking and chewing cheeseburgers at the same time.
Watch video below, via The White House:
[Photo via screengrab]
— —
>> Follow Matt Wilstein (@TheMattWilstein) on Twitter
Have a tip we should know? tips@mediaite.com