Jon Karl Grills Hillary: Why Did You Wait 2 Years to Comply with Email Rules?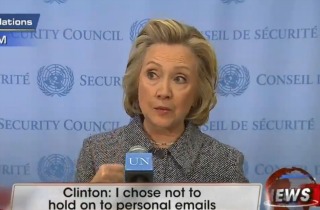 Former Secretary of State Hillary Clinton took questions from eager reporters on Tuesday about her personal email address, which she used exclusively instead of a government account during her time at the helm of the State Department.
Clinton said she opted for "convenience" in using just one email account (instead of carrying multiple phones), but added in hindsight "it would have been better if i'd simply used a second email account and carried a second phone, but at the time, this didn't seem like an issue."
During the question-and-answer portion of the presser, ABC News White House correspondent Jonathan Karl hammered Clinton with a series of questions, including why she waited two years to preserve her emails on government servers, why she has "apparently caught the White House by surprise" by not seeking approval from the White House counsel, and whether the controversy affects her decision on whether to run for president in 2016.
Clinton said she made an effort to send emails to State.gov accounts in order to ensure that they would be immediately preserved. She said the State Department sent a notice to former Secretaries of State (not just her) asking them to hand over all work-related emails that might be on a personal server. As a result, Clinton said, she asked her counsel to immediately comply.
"I took the unprecedented step of saying go ahead and release them and let people see them," she said.
–RELATED: Hillary Starts Presser by Reminding Everyone of More 'Important Matters'
This response was not enough for Karl, who, after Clinton finished her response, pressed her on why she waited two months after that State Department request was filed to turn over those emails. Clinton responded by saying simply that she "fully complied with every rule that [she] was governed by."
Clinton went on to say "there is no classified material" on her personal email address — a claim which many have called into question. She also did not answer to whether the controversy will affect her 2016 decision.
Before the press conference, the State Department announced it will release all of Clinton's work-related emails online following an internal review. You can watch Clinton's full remarks here.
Watch the video below, via Fox News:
[Image via screengrab]
— —
>>Follow Andrew Desiderio (@forza_desiderio) on Twitter
Have a tip we should know? tips@mediaite.com