Jon Karl Presses Earnest: Clinton Foundation Donation 'Doesn't Concern White House at All?'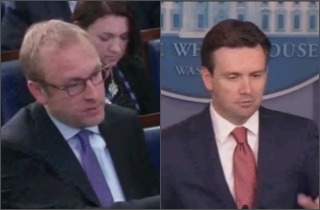 For the second day in a row, ABC News reporter Jonathan Karl pressed the White House for answers on whether former Secretary of State Hillary Clinton may have violated government policy by accepting controversial donations to the Clinton Foundation during her cabinet tenure.
In the wake of conservative author Peter Schweizer's Clinton Cash book, the New York Times reported that while Clinton was at the State Department, her family's foundation accepted donations from groups involved in the building and selling of Uranium One, a uranium mining corporation, to the Russian government in 2013. Clinton's State Department oversaw approval of that deal.
"We now know that there were some $2 million in donations that came essentially from Uranium One to the Clinton Foundation that were not disclosed at the time," Karl said in Friday's White House press briefing. "Can you acknowledge that at least that did not meet up to the standards that were expected based on the memorandum of understanding between Hillary Clinton and the president?"
And for the second day in a row, White House spokesman Josh Earnest referred the reporter to the Department of State and/or Hillary Clinton's campaign team.
"Even aside from [the State Department's] approval of [Uranium One's] transaction, the fact that you had such a large donation — group of donations — coming in that were not disclosed, that doesn't concern the White House at all?" Karl pressed further. "That lived up to the standards that were set by the president?"
Earnest noted that the New York Times did not claim there to be sufficient evidence proving the donations affected the Clinton State Department's policy decisions. He then suggested Karl take it up with the Clinton team, this time more forcefully:
I have been in the position where, to put it mildly, other conservative authors have launched written books based on what they purport to be serious allegations against the president of the United States. And I'm often in the position of responding to those incidents and trying to defend the president from accusations that are not rooted or accompanied by any evidence. My point is that right now that's what's happening to Secretary Clinton. And there's a spokesman that Secretary Clinton hired who can answer these questions.
Watch below, via WH.gov:
— —
>> Follow Andrew Kirell (@AndrewKirell) on Twitter
Have a tip we should know? tips@mediaite.com