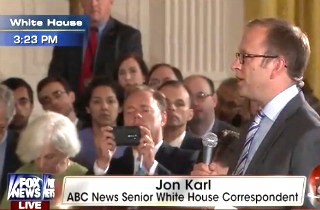 Should President Barack Obama tried harder to develop relationships with Republican leadership? That's the question ABC News reporter Jon Karl asked the president during Wednesday afternoon's post-midterm elections press conference.
Noting that the president and Senate Minority Leader Mitch McConnell have had only one tête-à-tête in the last six years, Karl asked: "As somebody who came to Washington promising to end the hyper-partisanship here long before you became president, but gotten worse since you got here, was it a mistake for you to do so little to develop relationships with Republicans in Congress?"
The president's response began with a heavy sigh, followed by this:
I think that every day i'm asking myself are there some things I can do better and I'm going to keep on asking that every single day. The fact is that most of my interactions with members of Congress have been cordial and they've been constructive, often times though we haven't been able to get what's discussed in the leadership meeting through caucuses in the House and the Senate to deliver a bill. The good news is that now Mitch McConnell and John Boehner are from the same party. I think they can come together and decide what their agenda is. They've got sufficient majorities to make real progress on some of these issues and I'm certainly going to be spending a lot more time with them now because that's the only way that we're going to be able to get some stuff done…
The president joked that he would like to enjoy some Kentucky bourbon with McConnell, admitting that "he has always been very straightforward with me, to his credit he has never made a promise that he couldn't deliver, and, you know, he knows the legislative process well."
"I think we can have a productive relationship," the president concluded.
Watch below, via Fox:
— —
>> Follow Andrew Kirell (@AndrewKirell) on Twitter
Have a tip we should know? tips@mediaite.com