Jon Meacham on the Daily Show: "I'll Be Over In The Morning With The Prospectus"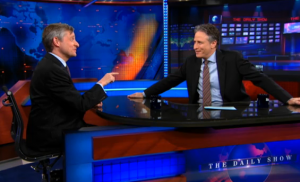 Newsweek editor Jon Meacham was on the Daily Show last night – his first big TV interview about the fate of his magazine, put on the block by parent Washington Post company yesterday morning. By the time Meacham's TDS interview aired, the Observer had already reported that he was looking into rounding up investors to take over the magazine himself.
In the meantime, Michael Wolff was already running around waving the almost-scalp. And surely Meacham knew the backlash was coming.
So the Daily Show interview was Meacham's opportunity to frame the magazine, the sale, the media landscape and his tenure in the most positive way possible, aided by a host friendly to the magazine, the mission and the man.
Lucky break for Meacham – because that's exactly what he did.
Meacham was originally scheduled on the show to promote his new PBS public affairs show, Need To Know (timing is everything!). But last night, he was handed a platform to sell Newsweek as an essential public good in a dangerously narrowing market.
"We live in an era in which all print-based media are not exactly rolling in cash, to say the least," said Meacham. "We have to decide: Are we ready to get what we pay for? And if you're not going to pay for news, then you're going to get a different kind of news. Full stop.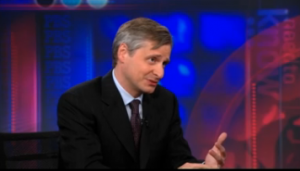 "I do not believe that Newsweek is the only catcher in the rye between democracy and ignorance. But I think we're one of them. And I don't think there are that many on the edge of that cliff."
Meacham had only praise for his publisher, Don Graham, saying that the sale of Newsweek was "a rational economic decision."
Stewart, an exceptionally friendly interviewer, did call Meacham on his blaming of the media economy, asking (in the uncut interview online), "Why does Time get to live?" Meacham, who made a point of saying "I admire Time magazine," noted that Time is "part of a larger magazine company," and further noted the many economies of scale that help it on that front. Meacham also cited The Economist as a successful enterprise (and the partial inspiration for the magazine's redesign last year).
Meacham acknowledged, however, that the current formulation of Newsweek wasn't working — and looked to a digital future, saying "we've had it backwards."
"Taking 77 years, the emphasis has been on the print. It's probably time to flip that – in which you're solely focused on the digital, and by the end of the week, you take the best stuff [for] people who want to hold a magazine in their hands," said Meacham.
Meacham also noted that the Newsweek reader was desirable to advertisers, with affluent, educated readers from "the virtual Beltway" wanting to be engaged on political and breaking-news issues. For advertisers, he said, "this is an audience you want to reach. And that's two-thirds or more of the revenue."
Upshot: Meacham covered all the bases. The changing media landscape, Newsweek's essential mission, it's affluent and influential core readership, and an intention to adapt for the future. The last selling point that he couldn't reel off – but was apparent in the interview – was Meacham himself. Although the day-after detractors lay much of the blame at Meacham's door for emphasis on his own interests (political history, religion) and for being "absentee" while on the road with his book, the fact remains that Meacham's Pulitzer-prizewinning, frequent MTP-guesting and public affairs show-hosting personal brand is an asset to Newsweek — and, if it's going to survive, is especially an asset going forward. If Graham had replaced him, that would be one thing — day-after arguments about how an editor deploys his or her time are always fair game — but Newsweek is for sale with its editor, and if that editor is going to take charge of its future, then it helps that said editor has a stellar reputation outside of his industry (and has a whole whack of plausible deniability for his challenges inside the industry. It doesn't hurt that Newsweek just won an Ellie, either).
Meacham must now be on a full-on charm offensive — which is another reason his Daily Show appearance was so well-timed. He was able to showcase his nerdy, facty side as well as his quick-witted side. Example: Stewart: "You're like a personal Wikipedia." Meacham: "Which is gonna be good, 'cause I'm looking for work." It will all be part of the package, because like Newsweek, Meacham himself is now on sale. Which, of course, he knows — and which is why he closed thusly:
"The good news is, we did not close today, we went up for sale – and I'll be over in the morning with the prospectus."
Watch the full interview below.
">
Have a tip we should know? tips@mediaite.com