Jon Stewart: 2008 Obama Lifted People's Spirits, Now He's Trying To Drag Us Down To Earth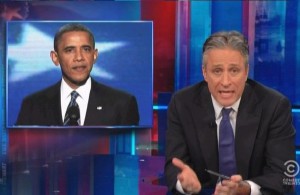 For the final night of The Daily Show's coverage of the Democratic National Convention, Jon Stewart noticed how in stark contrast to President Obama's soaring rhetoric four years ago, he seemed more careful in his convention speech this week. He mocked the president for saying that the nation's successes over the past few years were thanks to the collective "you," and remarked that the same Obama who raised people's spirits four years ago is now trying desperately to bring people back to reality.
RELATED: President Obama Lays Out His Agenda For A Second Term In DNC Speech
After noticing how many times the death of Osama bin Laden was invoked by DNC speakers last night, Stewart focused on the other highlights of the night. The first one was clearly Jennifer Granholm's Howard Dean-esque speech that literally made her face red. Stewart remarked, "Holy shit!" as he flailed his arms as maniacally as Granholm did.
Stewart then turned to Joe Biden's speech, in which the vice president emphasized how close and personal he gets with Obama on a day-to-day basis. Stewart joked that Biden likes to take a whiff of Obama's suit when the president is out of the country, which apparently smells of "cigarettes, intellect, and unchecked drone firepower."
But, of course, last night's big speech belonged to, as Stewart put it, "Barack We-Don't-Use-His-Middle-Name Obama." He showed clips of Obama's lofty hopes for future generations of Americans and the "sober reality" he mixed in between. Stewart contrasted Obama's 2008 DNC convention speech, which was he compared to a work of art, to the president playing down expectations over the past four years. Stewart summed up Obama's challenge last night as "replac[ing] the audacity of hope with the more reasonable calibration of expectation."
Last night the president used rhetorical flourishes to say that his election was never about him, but "you." As in, EVERYONE. So when Obama said that "you" are the reason people have a better future ahead of them, Stewart suspected that the president was trying to push all the responsibility on the people so then he could blame them for "the shitty stuff that hasn't been done."
Stewart concluded by remarking that the American people need to be grounded, and "maybe the only person who could have done it was the one who put all that air under our feet in the first place."
Watch the segment below, courtesy of Comedy Central:
Part 1:
Part 2:
—–
Follow Josh Feldman on Twitter: @feldmaniac
Have a tip we should know? [email protected]
Josh Feldman - Senior Editor