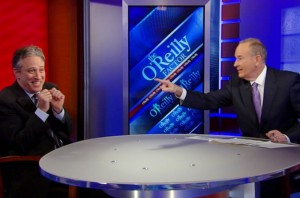 Bill O'Reilly hosts the top rated cable news program right now The O'Reilly Factor. Jon Stewart, who happens to host the critically acclaimed and influential Daily Show, makes a healthy living criticizing O'Reilly, and more to the point, Fox News. So its rather remarkable that Fox News invited one of their biggest critics to come on their channel in hopes of providing entertaining television. Thank you Fox News.


It was an enjoyable and mutually respectful dialog, though the aired version was edited for time. And while the edits added much-needed structure to the free-form discussion, one wonders how they may have also changed the tone and meaning of the discourse. While a third segment will air tomorrow night, Mediaite has learned that the entire, unedited 30 minute segment will be available on FoxNews.com tomorrow evening after 9pm.
Matea Gold from the LA Times covered the interview from behind the scenes, and provided insight that viewers may have missed. :
But most of all, Stewart used his second appearance ever on "The O'Reilly Factor" to levy a robust critique of Fox News and its coverage of President Obama.

"Here's what Fox has done, through their cyclonic perpetual emotional machine that is 24 hours a day, 7 days a week: They have taken reasonable concerns about this president and this economy and turned it into full-fledged panic attack about the next coming of Chairman Mao," the comedian told his host.
As for O'Reilly? Gold interviewed him after the interview and he had this to say:
"It was more serious than I expected him to be," the commentator said. "He wanted to make some points about Fox News, and he made them. I let him make them. And I told him, I'm not offended that he believes that or sees it that way. I'm not. But I think if he would sit down and watch Bret Baier, Shepard Smith, the way our hard news guys cover the White House and Congress and the Supreme Court, he would not see a rooting interest in the GOP."
Gold also gave insight behind the inspired decision to host, and broadcast this exchange:
"Jon is entitled to his criticisms," said Bill Shine, executive vice president for programming. "We both make our living off the 1st Amendment. We invited him on, and what other place would allow him to do that? That's what makes us No. 1. We invite our critics on and let them criticize us to our face."Plus, Shine said, "It's good TV. I thought it was fun."
Because of the current binary nature of opinion media, many outlets will be quick to declare a "winner" in all of this. Yes, Stewart revealed the quick wit and insight that has made him the respected cultural critic that he is. And O'Reilly demonstrated his command of issues and debate, and his devotees will see the moments where he got his shots.
But the real winner in the following exchange? You, the viewer.
Have a tip we should know? tips@mediaite.com