Jon Stewart And Juan Williams Honestly Debate 'Honest Debate' In Media Today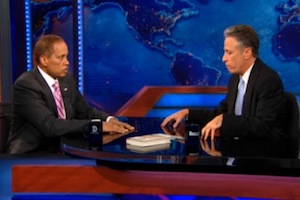 Last night Jon Stewart interviewed Fox News' Juan Williams and while the interview that aired on The Daily Show focused on Williams' bitter end with his former employer NPR, the really juicy parts of the conversation took place in portions that appeared exclusively online. The lengthy conversation (spread over three clips!) between the two demonstrated a mutually respectful tone and a truly fascinating analysis of the perhaps unfortunate state of journalism and political discourse today. The high-minded discussion even had Stewart comically noticing "we're two very smart people."
Williams was promoting his new book, the thesis of which argues that "if you don't have honest debate, if you don't have honest exchange of ideas, you're going nowhere in this country." Stewart agreed with the overall thrust of that statement, yet wondered what exactly Williams was blaming for preventing such honesty? Stewart delicately suggested his view, that it was today's partisan media that truly makes honest debate difficult since "part of the strategy it seems of partisan media organizations is to de-legitimize your opponent by suggesting bias rather than dealing with the criticism." And Williams didn't disagree, adding that an increasing problem is that many Americans simply seek out the media outlets and websites with which they agree and only get the news from those sources:
On a slightly different front, Stewart also compared Williams being unfairly labeled a "bigot" for his Muslim comments as being similar to how Fox News recently wondered whether Stewart was "racist" for his Herman Cain jokes. Stewart claimed that in neither case was it necessarily an attempt at censorship, and in reality it was just the 24 hour news machine rewarding and replaying the most outrageous accusations regardless of their validity. Williams disagreed slightly since he actually lost one job over his comments, yet he clearly listened to Stewart's points since Williams repeated them later in his own conclusion.
When talk turned to Fox News and Stewart's hesitation to consider it a place of "honest debate," Williams insisted that his very presence on the network allows for different viewpoints to be heard. Yet Williams didn't attempt to defend against the charge that Fox News is "bias," admitting "if you ask conservatives, conservatives say finally there is some place that they can get the conservative slant on news told to them in a way that affirms their point of view." Stewart wondered, "is that a block to honest debate by calling your network fair and balanced?" Williams politely shot back that MSNBC has a "strong liberal idealogue" on throughout their primetime hours. Yet Stewart wasn't buying it, concluding "it's a hard argument to make that Fox is less politically biased than MSNBC":
Finally, Stewart and Williams truly reached common ground in expressing frustration with the fact that no cable news network today actually features the type of "honest debate" that could actually be productive and beneficial to society. Williams agreed with the proposition that the close relationship between politics and the media "corrupts the debate, it degrades the quality of conversation we're able to have as Americans." And both lamented that in today's media landscape all people really remember is when people say outrageous, offensive things. After screaming "that's because you're Hitler" (just for ratings of course), Stewart openly fantasized about a new network that could have Fox's energy and excitement, but that wasn't so partisan. And Williams seemed to be on board with the enterprise.
What makes Stewart and Williams true rarities in the cable news universe (and yes, whether Stewart likes it or not, he is a part of this environment), is that both actually listen to the conversation they are engaged in and then attempt to alter their arguments in order to seriously try and convince their sparring partner of the merits of an alternate view. This of course is unlike many in cable news who not only don't actually listen and just wait to talk, but who are absolutely certain all of the time that their one perspective is the only right approach. Stewart's frequent willingness to not only interview Fox News personalities, but to continue to let the likes of Bill O'Reilly and Chris Wallace interview him in return is evidence of his ongoing desire to have "honest debates." And when such debates take place between such open-minded and insightful figures like Stewart and Williams, then it's guaranteed these such encounters will be engaging and entertaining every time.
The final clip from The Daily Show website below:

Have a tip we should know? tips@mediaite.com