Jon Stewart And Wyatt Cenac Blast Chris Christie And Obama For Marijuana Hypocrisy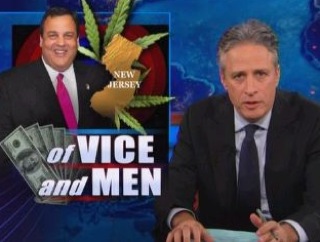 Jon Stewart brought out what is now something of a signature cup of marijuana he keeps around the office for the right occasion– reports on potential legalization, that is. And today, he took a look at the hypocrisy some politicians show– from New Jersey Governor Chris Christie to President Barack Obama— in opposing legalization or decriminalization while claiming to uphold in personal freedom. In the process, correspondent Wyatt Cenac got some feedback from a panel of stoners.

RELATED: Jon Stewart Rips Fox News' Hypocritical Outrage Over Fast And Furious
Gov. Christie took up much of Stewart's segment after he noted that New York Governor Andrew Cuomo supported decriminalization, but his legislature was not cooperative. The opposite of that was the case in New Jersey, where Christie had openly opposed any such bill (one is currently in the Assembly). Stewart noted that Christie's take on marijuana– the federal government opposes it and the states should abide– was the exact opposite of his take on sports betting: that the state would defy anyone who argued it should be illegal. He then took several phrases of Christie's about betting and noted how similar they were to pro-marijuana arguments.
Stewart then tossed to Cenac, who interviewed, among others, Doris Kearns Goodwin and a panel of stoners on President Obama and his take on marijuana– the panel apparently a simulation of young men who could, theoretically, become President of the United States. They were not particularly helpful on foreign policy issues.
The segment via Comedy Central below:



—–
» Follow Frances Martel on Twitter
Have a tip we should know? tips@mediaite.com