Jon Stewart Appears On Egyptian TV, Talks Movie, Political Satire, And Fox News With Bassem Youssef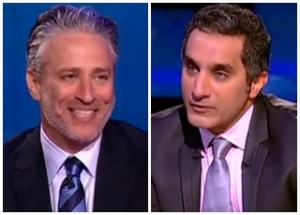 Daily Show host Jon Stewart is on a hiatus from anchoring the late night comedy program to direct a feature film, but two months after "Egypt's Jon Stewart" Bassem Youssef appeared on Comedy Central, Stewart returned the favor with an appearance on Youssef's program Albernameg today. The two comedians bantered about everything from Egyptian traffic to "which pit of hell" Fox News is reporting from. They also talked a lot about political satire, with Stewart remarking, "If your regime is not strong enough to handle a joke, then you don't have a regime."
RELATED: Stewart Destroys Pres. Morsi For Going After 'Egypt's Jon Stewart' After Vowing To 'Welcome Every Opinion'
After impressing the audience with a few words of Arabic, Stewart told Youssef he is "honored" to be on his show, and mockingly announced to the audience he has been appointed to a mayorship by President Mohammed Morsi. Stewart joked that after handing off his show to John Oliver, he's just wandering around the Middle East, because "my people like to wander the desert."
Stewart explained the background of Rosewater, the movie he is directing based on a book written by Maziar Bahari, a Newsweek journalist who was imprisoned by the Iranian government during the post-2009 election protests a few days after he sat down for an interview with Daily Show correspondent Jason Jones. Stewart couldn't help but complain about the lack of traffic lights in Egypt, adding "The law appears to be 'Can I get over the car in front of me?'" Youssef joked that all the traffic helps defend Egypt, saying "We can never be occupied because our streets are already occupied."
Stewart said he's received an incredibly warm reception in the Middle East "to the point where I wonder if you're being sarcastic." Youssef asked Stewart if his satire ever gets him into trouble, but Stewart said it's nothing compared to what kind of trouble Youssef gets in for his comedy. He explained that satire is "settled law" in the U.S. and you can't have a regime if people in power can't handle being made fun of. He praised Youssef for carving out a niche for free expression in a country with leaders trying to limit it.
Youssef brought up Stewart's favorite sparring partner, Fox News, and remarked, "I was wondering in which pit of hell do they do their editorials." Stewart said he doesn't see what they do as "hate," but "fear," whether it be honest or just manipulation. Youssef brought up Bill O'Reilly's latest Daily Show sit-down, particularly O'Reilly mockingly demanding that Stewart be replaced on the show by a Muslim host. Youssef deadpanned, "Why didn't you think of me?"
Stewart said he never wants to single out anyone for their religious beliefs, saying there's one thing that's true of all people all around the world.
"I don't like assholes. I try to speak out against assholes, and isn't that all government is. It's–we all get together and decide as a majority who the assholes are."
Watch the full interview below, courtesy of CBC:
—–
Follow Josh Feldman on Twitter: @feldmaniac
Have a tip we should know? tips@mediaite.com
Josh Feldman - Senior Editor