Jon Stewart Blasts Fox News Over Romney Video: 'Chaos On Bullsh*t Mountain'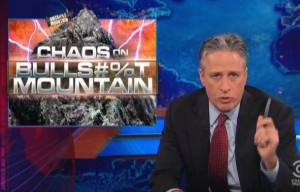 Jon Stewart used the first act of The Daily Show tonight to look at how Fox News has reacted to a leaked video of Mitt Romney talking about the 47 percent of Americans who don't pay income taxes. What became increasingly clear, according to Stewart, was that no one at Fox knew quite how to react, with hosts running the gambit from attacks on liberal media misquotations to full-throated defenses of what Romney said.
RELATED: Laura Ingraham Fired Up Over Romney's 47% Tape: 'It's Ridiculous' This Is Getting Airtime
Stewart reminded viewers that Romney's campaign was supposed to undergo a reboot this week when the video was uncovered. Well, that didn't last long. But as for Fox News' coverage, Stewart said that the network's "turd containment crews have been working overtime."
While some Fox hosts were downplaying Romney's remarks after being uncovered by Mother Jones of all news sources, others were acknowledging that Romney was inartful in trying to make what was otherwise a reasonable argument. "It's like Romney jazz!" Stewart remarked.
And still, other Fox hosts were also saying Romney was accurate in what he said. Stewart tried to boil down the network's mixed reaction thusly.
"This inartfully stated dirty liberal smear is a truthful expression of Mitt Romney's political philosophy and it is a winner."
And yet despite how big of a "winner" it may be, Fox News also thinks it's a huge distraction from the real issues. Like a leaked video of President Obama Fox News touted, which helped Stewart fully highlight the sheer hypocrisy only found on Bullshit Mountain.
But what really set Stewart off was the idea that almost half of the people in the United States are entrenched in the "entitlement society," feeding like parasites off of more successful people. Stewart noted that both Exxon-Mobil and AT&T received a lot of tax subsidies from the government, but "at least [they] give us back cheap gas and reliable cell phone service." Stewart even pointed out how Romney himself benefits from tax subsidies.
Stewart summed up the disparity thusly: "If they get a break, they deserve it. If you get a break, it's a handout and an entitlement."
Watch the segment below, courtesy of Comedy Central:
Part 1:
Part 2:
Part 3:
—–
Follow Josh Feldman on Twitter: @feldmaniac
Have a tip we should know? tips@mediaite.com
Josh Feldman - Senior Editor