Stewart Blasts Fox News Over School Lunch Hypocrisy: If Obama Was Against Diabetes, Fox Would Be For It
Jon Stewart Blasts Fox News Over School Lunch Hypocrisy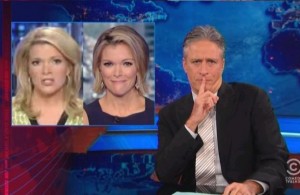 Another day, another reason for Jon Stewart to go after Fox News. Stewart focused on a recent controversy over federal regulations for school lunch programs, which students are obviously not happy with, and neither is Fox News. Stewart noticed that some of the Fox hosts decrying the standards for one reason or another are sounding like plain hypocrites.
RELATED: SPAlaska: Sarah Palin Takes a Gratuitous Shot at Michelle Obama's Anti-Obesity Initiative
Stewart mocked the media for thinking children hating school lunch has suddenly become a major story. New federal regulations demand smaller sizes and fewer calories in the meals. Stewart boiled the controversy down to, "You hate the food, and you want more of it."
He found it odd that kids are lamenting the lack of food, considering that a significant amount of their food ends up being thrown in the garbage. But why exactly is it news, Stewart asked, since the USDA implements new federal guidelines for school lunches every year. The answer, of course, is the Obama administration. Specifically, Michelle Obama, the "big government über-nanny" pushing for healthier eating options.
Stewart then picked out a number of Fox News hosts for being hypocritical in criticizing the program. Eric Bolling said the government shouldn't be telling people what they can eat when it comes to school lunches, but Stewart dug up a clip of Bolling saying the opposite on food stamps.
Then, after bringing up a story about how an English teacher wrote a song that kids performed decrying the federal lunches, Stewart brought up Megyn Kelly practically praising the video. Of course, how did Kelly react to a video of little kids singing a pro-Obama song? Kelly pledging to viewers that she's "trying to get answers." Stewart ended by quipping that Fox News would be pro-diabetes if the administration tried to fight it.
Watch the video below, courtesy of Comedy Central:
—–
Follow Josh Feldman on Twitter: @feldmaniac
Have a tip we should know? tips@mediaite.com
Josh Feldman - Senior Editor