Friendly Fire? Jon Stewart Blasts Obama Administration For Solyndra Scandal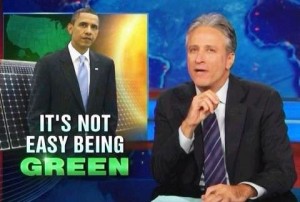 You guys have been waiting for this, huh? Try not to kiss (or punch) your computer screens too hard, y'all.
So. Solyndra. (Imagine we're whispering seductively in your ear, perhaps whilst wearing a Ronald Reagan mask, if you're into such things.) Solyndra is a solar energy company that declared bankruptcy late last month, letting go of each and every one of its 1,100 workers. That's incredibly bad timing for the Obama administration right now as the President gears up for 2012. See, the company received over $500 million in federal loans (some reports have it at $528 million, others have as much as $535 million) under the 2009 stimulus law. In fact, Solyndra was the very first renewable energy company to receive a loan guarantee under that law, and quickly became something of a crown jewel in the Obama's administration's clean energy program, with the President even touring its facilities and praising its work in a speech you will likely see auto-tuned in the very near future. Pretty bad. And it gets worse…
House Republican investigators found email evidence of repeated warnings about the company and its green energy projects, with one calling it "not ready for prime time" and others warning that it was doomed to run out of money this very month. And and and, there's also evidence that one investor in Solyndra, George Kaiser, was also a fundraiser for Obama and made several visits to the White House in order to visit with several aides.
Jon Stewart explained what this might mean for a certain popular media outlet:
Fox News, call your doctor. Because the erection you currently have is going to last longer than four hours.
Do you suppose Rick Perry and Mitt Romney are both performing the running man at this very moment?
So gather yourselves together, make sure your bedroom doors are locked, and check out the video below, courtesy of Comedy Central:
Have a tip we should know? tips@mediaite.com