Jon Stewart Blasts The Political Convenience Behind Obama's Gay Marriage 'Evolution'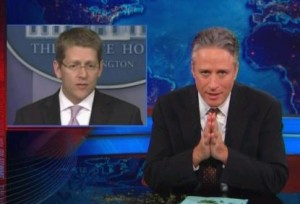 On Tuesday night, Jon Stewart delved in to the twilight zone that is Washington D.C. to discuss an issue dominating the news this week: gay marriage. Tracing the chronology — from Joe Biden's remark on Sunday, to the reaction that followed, to the subsequent reassessing of President Obama's "evolution" on the issue — The Daily Show looked at how far the president has come in terms of supporting marriage equality. He has evolved: from openly supporting gay marriage to becoming, well, a political candidate.
Stewart noted Biden's "moment of candor" before taking a look at the rather contradictory response that followed. Biden, immediately after making the remarks, said he was speaking personally, for himself, and not for the president. Meanwhile, David Axelrod tweeted that Biden's sentiment was aligned with the president's. And then there's White House Press Secretary Jay Carney's scrambling to answer questions — reminding us of the president's "evolution," and adding, "it is as it was."
To further dissect Obama's stance on gay marriage, Stewart turned to White House correspondent Jon Oliver. The two pondered the effect of television on Obama's views (turns out, while Biden was watching Will & Grace, Obama was paying more attention to Raymond and how everybody loves him). Circling back from a brief tangent about Modern Family (it's the writing and the acting), Oliver provided a look at how far Obama's views have come.
In a 1996 questionnaire, filled out and signed by Obama, who was running for the Illinois state Senate, Obama wrote, "I favor legalizing same-sex marriages and would fight efforts to prohibit such marriages."
"That's full-on support," Stewart said.
"Absolutely unequivocally supported it, Jon," Oliver said. "Then he evolved."
"Into what?" Stewart asked.
Oliver replied, "A candidate, Jon."
Take a look, via Comedy Central:

Have a tip we should know? tips@mediaite.com