Jon Stewart Blasts 'Truth-Teller' Paul Ryan For Inaccuracies In VP Acceptance Speech
Stewart Blasts 'Truth-Teller' Paul Ryan For Inaccuracies In VP Acceptance Speech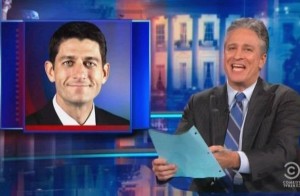 Jon Stewart recalled tonight that in the weeks since Paul Ryan was chosen as the Republican vice presidential nominee, he has been touted as someone unafraid to tell "hard truths" to the American people. But based on Ryan's acceptance speech last night, which Stewart noticed was full of generalities and inaccuracies, he wondered exactly what happened to the man who was supposed to be an honest broker.
Stewart was temporarily mesmerized by how "handsome" Ryan looks, especially when compared to the last Republican vice president, but then focused on the conventional wisdom that Ryan is considered one of the biggest truth-tellers in the Republican party. How truthful is he? "So honest his nose shrinks" when he speaks, according to Stewart.
But when watching excerpts of Ryan's speech, all Stewart saw were a few vague generalities mixed with rather "ambitious" pledges about what he and Mitt Romney would do if they win in November. Stewart boiled Ryan's bold claims down to: "A Romney/Ryan administration will do good, not bad."
However, it was the factual inaccuracies in Ryan's speech that earned much of Stewart's scorn. He called out Ryan for attacking Obama over cutting Medicare and rejecting the report of a bipartisan debt commission when Ryan himself is guilty of the same. Stewart highlighted Ryan's defenders in the media, particularly a comment by Rudy Giuliani that not every fact in a convention speech is necessarily accurate.
Stewart was then joined by correspondent John Oliver, who argued that the GOP's "We Can Change It" theme was really all about changing "facts, reality, and the meaning of words in order to make a much larger point." Oliver went as far as to compare Republicans changing the facts to himself making up lies to hit on a woman.
Watch the segment below, courtesy of Comedy Central:
—–
Follow Josh Feldman on Twitter: @feldmaniac
Have a tip we should know? tips@mediaite.com
Josh Feldman - Senior Editor