Jon Stewart Breaks New 'Herman Cain Scandal' With Daily Show Correspondent?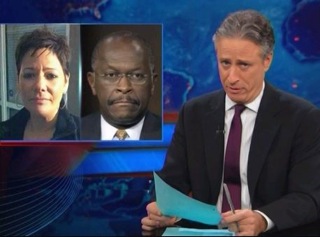 With the news that Herman Cain was facing yet another accusation of sexual impropriety a headline late in the evening yesterday, it wasn't til today that Jon Stewart could take a proper shot at it, and that he did. First commending Cain for the more positive aspects of this news ("nice to see him going the consensual route"), he then prodded the irony of Newt Gingrich gaining from his loss, and finally tossing to correspondent Samantha Bee, who seems to have found Cain platonically hanging out under her skirt.

RELATED: Herman Cain Breaks News Of His Own New Accusation Live On CNN
Showing the news of Ginger White's allegations, Stewart first began with the positives: the consensual element, yes, and the time frame: "Thirteen years? That is an admirable commitment to the women with whom you are… violating your spousal commitment with." He noted that one of the two must be lying, otherwise, Herman Cain is the worst deal closer in the history of extramarital affairs." Then there were the signatures in his books he signed for her– things like "friends are forever, everything else is a bonus," and Cain's excuse that he was "trying to help her financially." "I guess that explains the 4:30 AM text," Stewart joked.
RELATED: Report: Herman Cain 'Reassessing' Whether To Stay In GOP Race
Panicking at the news that Cain could potentially drop out ("I've already lost Trump, I can't lose you!") he then pointed out the irony of Newt Gingrich, who had two affairs, gaining in the polls as a results of this, while Rick Santorum continued to be ignored. With correspondent Jason Jones reporting live from "Santorum Headquarters" ("don't Google-Map it"), he described the attitude there of staffers as "frothing mad," since their candidate was the epitome of conservative. This report was interrupted by another breaking news report– one of a new sex scandal for Herman Cain– being reported by Samantha Bee in a Michigan hotel room, where she found Herman Cain under her skirt, "providing much-needed financial assistance to my vagina."
The segment via Comedy Central below:
Part 1:
Part 2:
Have a tip we should know? tips@mediaite.com