Lawrence O'Donnell: Jon Stewart Changed My Mind On Releasing Osama Death Photos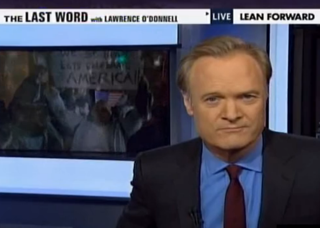 Many on the right (and some on the left) often joke that the real leader of the liberal commentariat is not one of their own, but Jon Stewart, and Lawrence O'Donnell just gave the "funny 'cause its true" joke this much more ammunition: after opposing the release of Osama bin Laden's death photo, O'Donnell reconsidered the matter tonight after watching last night's Daily Show.
"I for one have felt that there was no need [to release the photo]," O'Donnell began his segment on the matter today, revisiting his comments yesterday and noting that he perceived the matter to be one of belief. Likening it to the birth certificate argument, he argued there was "no reasonable room for doubt" that Americans had killed bin Laden, and so releasing the photos would only exacerbate a silly Photoshop debate on the matter. Then he gave credit to Stewart for bringing up a completely different angle to the issue: that Americans simply haven't seen enough images of their decade of war, and not showing them what their tax dollars are going to was simply unjust.
"Jon Stewart has a point– a good point," O'Donnell admitted, choosing first to look at the casualties of the Iraq War ("the war we didn't have to fight") and how little we had seen of it so far. "I don't know how much of the real imagery of war we should see, but I know that Jon Stewart is right, we haven't seen enough."
The segment via MSNBC below:

Have a tip we should know? tips@mediaite.com