Jon Stewart Channels Eminem To Give Chanting Advice To Michigan Union Protestors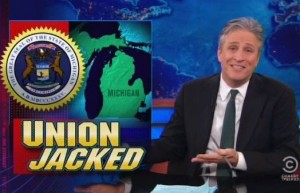 Jon Stewart focused on the fight over Michigan's right-to-work law tonight. He particularly highlighted how Governor Rick Snyder flip-flopped on the law in the past ten months, and advised the union protestors to drop the lame chanting by showing them the art of rap. No, seriously. Jon Stewart was actually rapping.
RELATED: Jon Stewart Tries To Make Sense Of WI Union Protests As 'Bizarro Tea Party'
Stewart pointed out that ten months ago, Snyder went in front of Congress to say he did not support right-to-work legislation and would rather find more "common-ground things" to work on. For example, Stewart suggested Robocops, a better slogan, and finally getting to work on a Kid Rock statue.
But rather than sticking to his guns, Snyder signed the bill into law tonight. Stewart noticed that the name "right to work" makes sense, but only if it is stretched out to say "right to work around the union." Stewart said the law would "destroy the only leverage unions have to stay afloat."
Of course, where there is anti-union legislation, there are pro-union protestors, and people have swarmed to the Michigan state capital, yelling and chanting in rhyme to speak out against the bill. Stewart sighed and told the protestors that if they're going to chant in rhyme, they need to step up their game.
And then, out of left field, Stewart decided to show the protestors how chanting in rhyme is really done, launching into a full-fledged parody of Eminem's "Lose Yourself." There aren't really any words to describe how unbelievable the whole thing was, and Stewart acknowledged afterwards the hilarity of himself, an old white Jewish man, trying to throw down some sick beats.
The segment continued with a turf war between correspondents Aasif Mandvi and Jason Jones over which state is doing more to hurt unions: Indiana or Michigan.
Watch the segment below, courtesy of Comedy Central:
Part 1:
Part 2:
—–
Follow Josh Feldman on Twitter: @feldmaniac
Have a tip we should know? tips@mediaite.com
Josh Feldman - Senior Editor