Jon Stewart Compares GOP's Fiscal Cliff Proposal To 'Stalin F*cking A Bald Eagle'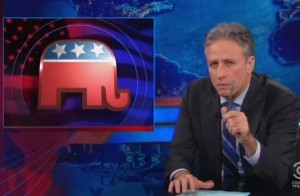 Jon Stewart revisited the fiscal cliff of doom tonight and the differing proposals being put up by both sides on how to deal with it. Whereas Stewart found the White House's proposal a mostly balanced one, the Republican plan looked to be pretty much the exact same thing as what would happen as a result of the fiscal cliff, only "steeper," and compared it to "Stalin f*cking a bald eagle."
RELATED: White House Press Secretary: GOP Fiscal Cliff Plan Is 'Magic Beans And Fairy Dust'
Stewart warned that there are only a few weeks left until the country hits the fiscal cliff "that we ourselves dug and put in our way." But rather than the basic level of "competence and middle school-level maturity" we should expect from Congress, not only is there no deal nor ongoing talks in Congress over the fiscal cliff, the only method of communication being engaged in are numbers being written down on pieces of paper.
Isn't that reassuring?
Stewart wondered how negotiations were being carried out before then. Spray-painting the sides of camels, perhaps? The numbers on the White House's piece of paper seemed to be rather moderate to Stewart and in line with what President Obama said he would do, so naturally the Republicans have been bashing and laughing at it for weeks.
As for the GOP's own proposal, Stewart noticed it made the same amount of cuts as the fiscal cliff would result in, only defense spending wouldn't be touched. Stewart said their plan basically asks the Democrats to "voluntarily jump off this steeper cliff," but the fall won't be as bad since they'll be cushioned by lava. Stewart panned their proposal as so bad, it's akin to "Stalin fucking a bald eagle."
After listening to both sides reject each other's proposals outright, Stewart said we might as well go over the cliff anyway, "because for a few seconds, it'll feel like we're flying."
Watch the video below, courtesy of Comedy Central:
—–
Follow Josh Feldman on Twitter: @feldmaniac
Have a tip we should know? tips@mediaite.com
Josh Feldman - Senior Editor