Jon Stewart Debt Crisis Update: 'Both Sides Switched, Everybody Caved, No One Agreed'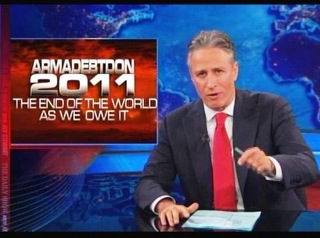 The debt crisis currently holding the new cycle hostage seems not to be going anywhere, partially due to the ability Congress has had of talking past each other in the opposite direction of any rational compromise. On tonight's Daily Show, Jon Stewart looked at what he deemed the "non-fiction version of the film" Captain America, where both parties seem to have switched sides so drastically to attempt compromise that, positioning aside, no one is any closer to a deal.
Joking that, in the real Captain America film, the protagonist "takes on and defeats a sunburnt James Carville," Stewart then turned to reality, where the federal government threatened to fall into "self-inflicted economic collapse," with the date of said collapse changing so often that "the only catastrophe that has moved its date this often is Spiderman: Turn Off The Dark." He then looked at the parties' prospective positions– Democrats refusing to cut too much spending and Republicans wanting taxes to remain stable.
The parties then went back to the drawing board and returned with a plan that, as Stewart put it, only flipped their positions– "both sides switched, everybody caved, and no one agreed." "Reid's plan is now to the right of Speaker John Boehner's," Stewart noted, and the latter's new plan was simply, "hey, this sucks so much, let's do it again in nine months."
The situation convoluted as it is, Stewart chose to end with a question rather than conclusion, one addressed to Congress: "Do you want out of this relationship so bad, but don't have the balls to leave, so you'e all decided to act like such giant assholes you force us to break up with you? Because if so, get the fuck out."
The segment via Comedy Central below:
Have a tip we should know? tips@mediaite.com