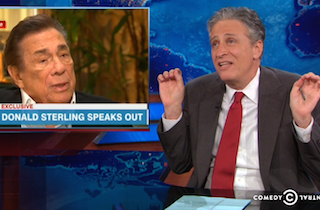 After getting real heavy in the first part of Monday night's Daily Show with a deep dive into Boko Haram and Rush Limbaugh, Jon Stewart decided to lighten things up with a look at L.A. Clippers owner Donald Sterling's completely insane mea culpa with CNN's Anderson Cooper. For viewers, that meant the debut of Stewart's spot-on Sterling impression.
Following a detour through the NFL's outrage over Michael Sam's televised kiss, Stewart arrived at the Sterling story. "I'm an ideas man," the host said in his best old, racist Jewish man voice. "What if parks had two water fountains instead of one?"
"You know how crosses are hard to see at night? What if we lit them up?" Stewart continued, before suggesting that Sterling may also be responsible for naming the Washington Redskins.
Finally, Stewart arrived at the part of the CNN interview where Sterling decided the best thing to do would be attack Magic Johnson for having H.I.V. and not helping minorities enough. "I love that moment where Sterling is clearly thinking, 'Should I say something awful again?' Ahh, why not? What the hell? Fuck Magic Johnson!'"
"I'm starting to think this whole secretly recording Donald Sterling and then leaking it to the media thing is an enormous waste of time," Stewart concluded. "Because clearly, you can put him in front of cameras, where he can see them, with lots of lights, and go, 'So, what's on your mind?' And let the crazy fly."
Watch video below, via Comedy Central:
[Photo via screengrab]
— —
>> Follow Matt Wilstein (@TheMattWilstein) on Twitter
Have a tip we should know? tips@mediaite.com