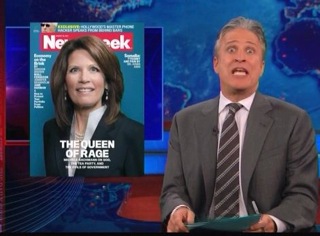 It seems that Newsweek's cover photo of Rep. Michele Bachmann has already proven to be a game-changer: it got Jon Stewart to defend the Republican presidential candidate for an entire segment– not an easy feat. Stewart blasted the magazine for deliberately finding an unflattering photo of the Congresswoman, arguing "you've got to go pretty far" to find an unflattering one, listing examples of Bachmann making "yelling into a bullhorn" look attractive, and giving editor Tina Brown a dose of her own medicine.
Stewart began his argument compiling evidence for why he rarely listens to conservatives when they complain that the "liberal" media is out to get them. "Conservatives hate the liberal media so much," he joked, "they're willing to accept arguments based on science!" Then he proceeded to do precisely that– attack an allegedly liberal publication for unfairly attacking a conservative. Don't expect this to happen again anytime soon.
Just putting the photo up elicited laughter from the audience, and Stewart was clear to note the cover's intention: "that's a shit picture of Michele Bachmann," he noted, "and clearly not an accidentally shitty picture." He went on to argue that of all the things one can say about the Tea Party leader, "one thing you cannot say about Michele Bachmann is that she is not photogenic." He then showed a variety of Rep. Bachmann photos that could, he joked, pass as "shampoo commercials" and made even the least attractive political activity look good. "You've got to go pretty far out of your way to find a crappy photo of Michele Bachmann, and you did," he quipped.
Stewart then noted Brown's argument that the photo was illustrative of the Representative's intensity, which Stewart did not buy one bit. "That's not an 'I'm galvanizing the voters in Iowa' picture,'" arguing instead that the cover looked like "the female version of The 40-Year-Old Virgin.'" "You used that photo in a petty attempt to make Michele Bachmann look crazy," he scolded, suggesting instead, "that's what her words are for." He then put together a far "scarier" portrait of Rep. Bachmann– made entirely of her quotes. "Shame on you, Newsweek, and shame on your editor Tina Brown," he railed, showing the least flattering photo of Brown he could find.
The segment via Comedy Central below:
Have a tip we should know? tips@mediaite.com