Jon Stewart Destroys McCain For Hagel, Benghazi Outrage, And Iraq: 'You Don't Get To Pull… That Sh*t'
Stewart Destroys McCain For Benghazi Outrage, And Iraq: You Don't Get To...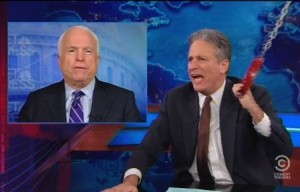 Jon Stewart tonight took on Republican senators Lindsay Graham and John McCain for their hyped-up outrage over Benghazi that led both to support holding up Chuck Hagel's nomination for Defense Secretary in order to get answers. Stewart tore into McCain specifically for having the hubris to demand answers for Benghazi when he did no such thing regarding the Iraq war and his motivations for blocking Hagel were not exactly free of personal bias.
RELATED: John McCain On Whether Hagel Opposition Is 'Payback': He 'Will Be Confirmed'
Stewart first took on Graham's constant objections to Hagel by mocking the South Carolina senator with an over-the-top Southern accent as if part of a Tennessee Williams play. Stewart pointed out that Hagel actually has nothing to do with Benghazi, so why would his nomination be held up for this?
Stewart then turned to McCain, reminding the audience that his 2008 campaign slogan was "Country First," and how McCain's blind outrage over Benghazi is so out there, he missed a briefing on it for a press conference expressing outrage that not enough information is being provided on Benghazi. Reacting to McCain's over-the-top outrage, Stewart told McCain that "you don't get to pull… that shit" because not only did he back the Iraq war, he did not back calls for official investigations.
Of course, the icing on the cake came when Stewart ran a clip of McCain admitting that Hagel's nomination was partly blocked because Republicans are still angry at him for attacking George W. Bush and criticizing the Iraq war. Stewart laid out how all this means McCain is no longer allowed to claim he puts country first.
"Blocking a secretary of defense nominee who has absolutely nothing to do with the target of your current rediscovered outrage at American deaths oversees whilst also copping to maybe a little personal payback is the antithesis of your stated campaign slogan."
Watch the video below, courtesy of Comedy Central:
—–
Follow Josh Feldman on Twitter: @feldmaniac
Have a tip we should know? tips@mediaite.com
Josh Feldman - Senior Editor