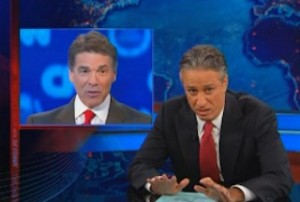 On Wednesday, Daily Show host Jon Stewart took a look at the GOP presidential debate in Vegas, introducing his segment by saying that "the whole gang was there except Jon Hunstman, so… Who cares?"
Stewart pulled no punches, calling Michele Bachmann "crazy" for her promise to build a "double wall" along the border. And then there's Mitt Romney, who entered into such a shouting fest with the other candidates that he was able to inspire a look of shock on an audience member in Vegas, a place where, as Stewart put it, a showgirl having relations with a penguin (We are classy, you guys! No bleeps for us!) is called "Tuesday." He's here all week, folks.
The host had a bit of advice saved just for Rick Perry: Calling Herman Cain "brother"? Is maybe not a good thing to do. (Because of that… hunting camp. You know the one.)
RELATED: Will Herman Cain's Reaction To 'N*ggerhead' Controversy Hurt Him With Conservative Base?
The show also offered us a look at what, exactly, went through Perry's mind when Romney reached out and placed a hand on his shoulder during one of their arguments. Hint: Clint Eastwood!
Stewart then echoed an observation made by Rachel Maddow earlier this evening: That Romney made a misstep by stating that he can't have illegal immigrants working for him because he's "running for office." Stewart then joked about "getting this dog off my penis, I'm running for office!"
Which: EWWWWW!
Here's the segment, via Comedy Central:
Have a tip we should know? tips@mediaite.com