Jon Stewart Explores Racist Place Names In Light Of Rick Perry's 'N*ggerhead' Scandal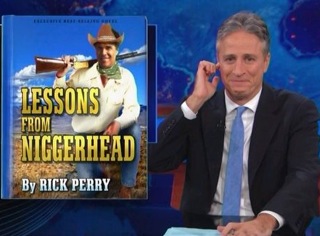 Rick Perry's "N*ggerhead Ranch" controversy was certainly the most bizarre, if not the most offensive, news story of the weekend, and far be it from Jon Stewart to ignore it. While starting off the broadcast with the news of Anwar Al-Awlaki's end, Stewart quickly turned to Perry's dwindling campaign, Herman Cain's response to the offensive ranch name, and, along with Wyatt Cenac, explored the great American tradition of giving places very racist names.
RELATED: Don Lemon To CNN Panel: How Bad Is 'N*ggerhead' Story For Perry Campaign?
Stewart began with the first sign that things were amiss for Perry, his unsatisfactory debate performance, in which Stewart joked one could see "a squadron of tiny little men inside his head, trying to find the right paper, one of the drops coffee on the control panel…" He then turned to the controversy at hand, and just the name of the ranch made the audience laugh and applaud. "Let the record show," Stewart joked, "that our audience will fucking cheer anything at times." He abstained from making a Republican debate audience, joke, however, and instead turned to Cenac, live from "Nigger Lake," a real place until New York finally got around to renaming it. He then listed a number of very racist, real places that to him proved "there aren't no black people making maps," before indulging in a rendition of the "lost verses" of "America the Beautiful" that reflect these map changes.
The clips via Comedy Central below:
Part 1:
Part 2:
Have a tip we should know? tips@mediaite.com