Jon Stewart Gleefully Bashes Fox News For Ignoring War On Women While Pushing War On Christmas
Jon Stewart Bashes Fox For Ignoring War On Women While Pushing War On Christmas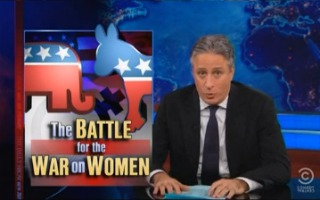 On Monday, Daily Show host Jon Stewart took on Fox News over the network's continuing narrative that the "War on Women" is completely manufactured while its anchors and hosts have insisted that there is a "War on Christmas."
"I did not know there was a war on Christmas," said Stewart after playing a clip of Christmas' most staunch defender, The Five's Eric Bolling. "Because, from my perspective, Christmas seems to be everywhere."
Stewart then showed various recent TV reports on several measures being taken or considered in Arizona, Mississippi, Texas, Wisconsin, Kansas and Pennsylvania that would place restrictions on women's access to birth control or abortion, or that would — in the case of Topeka, Kansas — make it "legal to beat your wife." That last report? Comes courtesy of Fox News' own Shepard Smith.
RELATED: Chris Wallace Takes Romney Supporter Ed Gillespie To Task On 'War On Women'
So what would it take to "generate the same sense of outrage" at Fox News over issues facing women as does the removal of poinsettias and blinking lights?
Maybe women, Stewart suggested, could pretend their reproductive organs were vagina mangers. Cue photo of a VAGINA MANGER, which is precisely what it sounds like. Then again, he continued, perhaps women could receive "an Advent calendar with pills instead of chocolate."
But it's not like Fox News bandies about the term "war on…" willy nilly, right? Save for, the show demonstrated, the war being waged on nearly every holiday, fossil fuels, the Constitution, Ladies' Night, fishermen, salt, chocolate milk, sugary drinks, food and potatoes. McDonalds, not unlike love, is a battlefield.
Seems like women are the only thing there's not currently a war on, Stewart observed. Unless, of course, they happen to be conservative.
Watch, via Comedy Central:

Have a tip we should know? tips@mediaite.com