Jon Stewart Gleefully Rips Into Fox News Election Coverage: 'Avalanche On Bullsh*t Mountain'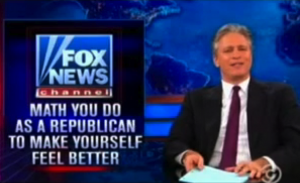 Jon Stewart recapped all the big news from last night's election, but saved his harshest criticisms for Fox News, Karl Rove, and in particular, five fateful minutes of the network in near-pandemonium after Ohio was called for President Obama that Stewart predicted would live on forever.
RELATED: Karl Rove Causes Fox News Chaos By Challenging Obama Victory Projection
Stewart joked that Obama's victory speech appeared to show that he was given "fresh batteries" for his second term, marveling at how all it took to get the president back in his "groove" was the mere thought of never having to run in another election ever again. Stewart brought up victories for gay marriage and marijuana proponents in a number of states, and said the undisputed "best news" of the night was that even though Florida is still too close to call, "the election was decided without them."
"Florida's clusterfuckery is irrelevant!" Stewart happily shouted.
He then turned to Fox News, which was "caught flat-footed" after months of brushing aside the polls and predicting that Mitt Romney would win. And that's when Stewart got around to the amazing, insane moment of panic on the network that Stewart said, unlike all of humanity, "will… live forever."
Stewart was amazed that Rove's insistent denials that Ohio was really a lock for Obama got Megyn Kelly to suggest that Rove was either lying to himself or to the audience in doing his own math. And Stewart actually managed to come up with an alternate slogan to Fox's "Fair and Balanced": "Math you do as a Republican to make yourself feel better."
But of course, Stewart then tracked Kelly's "voyage" through the halls of Fox News to find out the truth of what really happened in Ohio, going so far as to confront the people at Fox News' very own election desk. As Stewart phrased it, "there was an avalanche on Bullshit Mountain."
Stewart ended by tearing into the Fox News personalities who were amazed at how many Americans voted for Obama because they want more entitlements. He mocked them for thinking that they would have won if not for minorities taking the country away from older white people (a.k.a. Fox's audience).
Watch the video below, courtesy of Comedy Central:
Part 1:
Part 2:
—–
Follow Josh Feldman on Twitter: @feldmaniac
Have a tip we should know? tips@mediaite.com
Josh Feldman - Senior Editor