Jon Stewart Is Shocked Some Republicans Have Sane Foreign Policy Debate Answers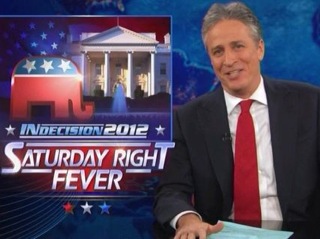 For the first time since, probably ever, Jon Stewart had a Saturday night debate waiting for him to review when coming back from the weekend, and there was one clear thread to this foreign policy debate that he sought to highlight: the fact that Mitt Romney, generally considered the "rational" establishment choice, had been out-knowledged on foreign policy by both Rep. Michele Bachmann and Rick Santorum. How did that happen?
RELATED: Rick Santorum And Michele Bachmann Surprising Voices Of Reason At Republican Debate
While the segment appeared to begin as a light-hearted look at what Romney was trying to convey with his very serious and somewhat disconcerting looks straight at his opponents– a characteristic Stewart christened "Mittface" that could mean anything from "I smell popcorn" to "I'm watching a woman crush a small animal with her heel"– it quickly became a look at the substance. Expecting something radical from Rep. Bachmann, who had delivered with claims about HPV vaccines and several extreme comments in the past, Stewart instead got a warning that relations with Pakistan were delicate, and it was important to take the debate seriously. "You sit on the House permanent select committee on intelligence, you know things," Stewart reminded himself.
RELATED: Republican Debate Audience Applauds Waterboarding…And Not Waterboarding
So then he turned to Santorum, who had similar comments to Rep. Bachmann's. "You were on the Senate Armed Services Committee," Stewart noted, so despite his comments on social policy, he had standing in foreign relations. Moving from Pakistan to China, Stewart played a clip of Jon Huntsman attacking Romney's statements, which he said could lead to a dangerous "trade war" that could hurt our economy. "What do you know about China… former ambassador to China?" Stewart jokingly asked.
With these strange turns of event for the Republicans, Stewart turned to Aasif Mandvi to explain how these complex answers could help the Republicans campaigning against Romney. The short answer? They don't. "Their real-world answers… are a huge gaffe," Mandvi answered, taking a look at how Perry's poll numbers dropped when he spoke about a topic he knew about: "Immigration." "Knowing stuff," he concluded, "is the enemy."
The clips via Comedy Central below:
Part 1:
Part 2:
Have a tip we should know? tips@mediaite.com