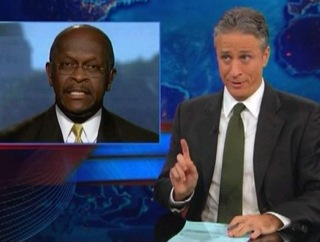 Herman Cain didn't have what one would call a particularly strong start to his week, what with Politico uncovering allegations of sexual misconduct from the 1990s and all. On tonight's Daily Show, host Jon Stewart made the most of the developments with pizza-themed innuendo, a list of Cain statements most outrageous than the claims as they appear currently, and a realization that, from now on, everything Cain says will "sound dirty."
"Hey, you want sausage on your pie?" Stewart suggested as a probably Cain pick-up line. "Let me stuff your crust," he continued, with a few other comical suggestions for what Cain could be saying (if it doesn't exist already, expect #hermancainpickuplines to become a fairly popular Twitter hashtag game soon). But Stewart went on to find that "trying to defend our border with a giant Mexican zapper" was probably more problematic than what we currently know about the charges, and only Cain himself could make the situation worse.
RELATED: Herman Cain Recreates The 'Non-Sexual Gesture' That Got Him In Trouble For Greta Van Susteren
Then Stewart turned to Cain's responses, which were, repeatedly, that he did not sexually harass anyone, and that "other than the restaurant charges," he had never been accused. Stewart, of course, noted the humor in this, as these were the only accusations anyone cased about. "Have you ever kidnapped a baby?" Stewart Joked. "Well, other than the Lindbergh baby, no." Stewart also skewered a number of things Cain has said in the past, like his constant claims one week that he was "Black Walnut" flavored, and that extended smile at the end of his ads. "Stop looking at my black walnuts!" Stewart joked.
RELATED: Watch: Rick Perry Goes Off-The-Cuff During Unconventional Cornerstone Speech
With Cain's campaign in crisis, what are the other candidates up to? Stewart found Rick Perry's slurred and somewhat manic speech over the weekend, and tried to explain to himself and the audience what he was watching. "Best case scenario, that dude's hammered; worst case, that dude is sober, and every other time we've seen Rick Perry, he's been hammered."
The segment via Comedy Central below:
Have a tip we should know? tips@mediaite.com