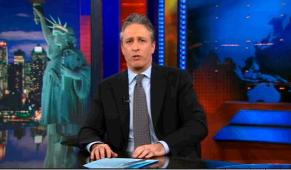 Jon Stewart kicked off The Daily Show last night tackling Comedy Central's censorship of fellow program South Park.
It wasn't a knock at his own network – instead, it was a critique of the Muslim group who had a problem with the cartoon. A group that is based…in New York.
Stewart said South Park creators Matt Stone and Trey Parker "got in a little bit of trouble during the airing of their weekly animated series South Park. And by trouble, I mean veiled death threats."
Unlike the creators, Stewart didn't have a problem necessarily with the decision. "It's their right. we serve at their pleasure," he joked, saying it was just about protecting employees. Although: "After forcing many of these same employees to work on Mind of Mencia and Krod Mandoon, damage done."
Instead he turned to the group, Revolution Muslim, which is based in New York. Why are they allowed to express their radical views in America? "All because of how much we in this country value and protect their freedom of expression," said Stewart – and the implication was obvious. While this group gets to voice their extremist opinions, this cartoon comedy show gets censored.
The clip continues to show a highlight reel of The Daily Show making fun of all religions, and closes with another, even more direct and probably heartfelt "Go F*ck Yourself" singalong. Instead of Fox News, though, it's aimed at "anyone who's threatening death in the name of religion or politics." Sounds like something worthy of Bill O'Reilly's "Patriot" designation.
Here's the clip:


—–
» Follow Steve Krakauer on Twitter
Have a tip we should know? tips@mediaite.com