Stewart Lampoons Toronto Mayor For Allegedly Smoking Crack: Maybe He's Personally Cleaning Up The City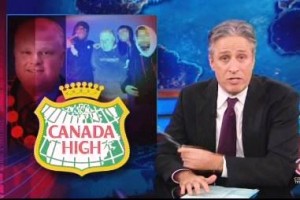 Jon Stewart tonight had some fun at the expense of a Canadian mayor who was allegedly caught on tape smoking a crack pipe in the company of drug dealers. After reminiscing on the now-infamous "taco mayor", Stewart lampooned Toronto mayor Rob Ford for this crack-smoking scandal, mockingly suggesting that maybe he only did it so he could get to all the crack in the city before anyone else could.
Stewart showed off video of Ford stumbling on a football field, getting hit by a camera, and even calling Chinese people "Orientals." Stewart said, "You've got to wonder: is this dude on crack?" Well…
Stewart mockingly defended Ford, saying "Maybe he's cleaning up the city by smoking all the crack in it! you're next, prostitution rings!" He laughed at the idea that the video in question was altered, or that it's not clear, as Ford's lawyer phrased it, "what the person is actually doing or smoking." Stewart deadpanned that maybe it wasn't a crack pipe, maybe it was "Wonder Woman's famed invisible pipe of truth."
Stewart then cut to Canadian correspondents Samantha Bee and Jason Jones (the latter spending the whole segment acting high on crack), who both defended the mayor's actions as just being another delightful part of Canadian culture.
Watch the video below, courtesy of Comedy Central:
—–
Follow Josh Feldman on Twitter: @feldmaniac
Have a tip we should know? tips@mediaite.com
Josh Feldman - Senior Editor