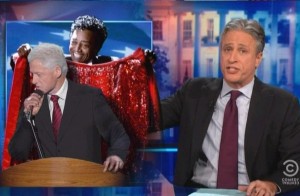 Jon Stewart did not hide how amazed he was at Bill Clinton's long speech at the Democratic National Convention last night. Stewart said he had never been happier to see "math" and "arithmetic" used in a speech, gleefully contrasting Clinton's approach of getting specific with how vaguely the Republican ticket laid out their policies last week.
RELATED: Fox's Chris Wallace And Brit Hume Offer Praise For Clinton's DNC Speech
Before getting to last night's speeches, Stewart addressed the controversy over the Democratic platform omitting language about God and Jerusalem, saying that God isn't so petty that he immediately "freak[s] out" if you don't mention him. Naturally, the Democrats stood by their platform 100 percent… except for when they did a complete 180 yesterday. Stewart found it particularly ridiculous that despite the fact that the vote looked "dead-even" from the delegates, the motion passed anyway.
And then Stewart transitioned to Clinton's big speech, which he immediately noted was unbelievably long, hitting on almost every important policy issue in the country right now, and with "more false endings than a James Brown concert."
However, Stewart did credit Clinton with bringing something truly unique to the convention: numbers and facts. He said that the former president presented an "amazing display of actually saying stuff," and argued that he had more statistics on his side in one speech than the Republicans did in the entirety of last week. And what Stewart found most amazing was that Clinton was actually more descriptive of the GOP plan than the GOP itself.
Stewart compared the specifics of Clinton's speech to the vague platitudes offered last week by Mitt Romney and Paul Ryan.
Watch the segment below, courtesy of Comedy Central:
—–
Follow Josh Feldman on Twitter: @feldmaniac
Have a tip we should know? tips@mediaite.com
Josh Feldman - Senior Editor