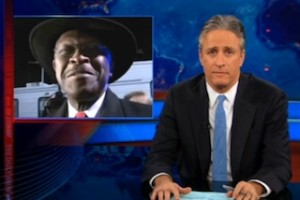 GOP presidential candidate Herman Cain recently sat down with the editorial board at the Milwaukee Journal-Sentinel for a series of questions and answers on the positions and policies that make up his campaign. When asked a relatively easy question about the Obama administration's handling of the uprising in Libya, however, Cain suffered something of a brain freeze, the video of which quickly went viral and was all over the cable news landscape. Last night, Daily Show host Jon Stewart opened his show with numerous clips of various reporters ridiculing Cain's gaffe, before playing it himself for his own comedic gain.
Stewart's mockery of Cain's mishandling of a fairly straightforward foreign policy question is funny, and given the amount of attention it's received in the media in the past day, it makes sense that he opened his show with it. But given that the clip came to light late Monday afternoon, watching Stewart's japery at the expense of Cain's fumbling seemed sort of late to the game. In fact, the hyperactive nature of opinion media and viral videos has recently made The Daily Show seem late to the game when it comes to this sort of clip.
Of course, the reason is that many sites and cable news outlets have gone to the same well of absurd and holy shit moments that not long ago was TDS' stock in trade. But the end-of-the-day taping schedule, combined with a growing market of aggressive video curation websites (oh hai!) means that Jon Stewart needs to try a little harder to stand out from the crowd.
Watch the clip below, courtesy of Comedy Central:
Have a tip we should know? tips@mediaite.com