Jon Stewart Mocks 'Dark Mistress' Nancy Grace, Blasts Democrats For Blithely Offending Minorities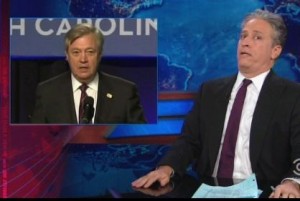 Jon Stewart started tonight by mocking Nancy Grace's overzealous and super-emotional coverage of the Jodi Arias case, suspecting that it's only sheer outrage that can sustain her youth. Stewart also took Democratic officials in a few different states to task for seemingly taking their party's support among women and minorities for granted. Stewart reminded them that while "women and minorities aren't going to leave you just yet, but I wouldn't get cocky."
Stewart took on Grace's rather vivid and detailed coverage of the Arias case, declaring that "wherever you hear gavels and sobbing," Grace is there to get "youth and vitality" from human suffering. Stewart hoped that the "dark mistress" might "return to the crypt" now that the Arias case is over, but the Cleveland kidnapping case might be enough to sustain her for now.
Stewart then moved on to Democrats making eyebrow-raising statements about minorities, and how despite the GOP needing to do better with minorities, the Democrats can't just get away with saying anything. He slammed South Carolina Democratic party chairman Dick Harpootlian for saying Governor Nikki Haley should go back to "wherever the hell she came from." Stewart wryly mocked Harpootlian, who he said was from the magical land of Harpootle.
But Harpootlian's apology only made it worse, when he explained he just meant Haley should go back to being a businesswoman. Stewart pointed out this is only marginally less bad, since it's merely chauvinistic as opposed to nativist. Harpootlian's North Carolina counterpart also got in trouble for telling a women's group that the GOP is "raping us along the way" and apologized by saying rape happens to anyone and he personally could have been raped.
But Stewart reserved his harshest criticism for a local Michigan Democratic official who described a black politician using the n-word. She claims it just slipped out, but Stewart pointed out that the word "doesn't just slip out unless you've had a lot of practice." He called her the one racist relative that's always at every Thanksgiving dinner, and reminded Democrats that they shouldn't get cocky about women and minorities supporting them right now.
Watch the video below, courtesy of Comedy Central:
—–
Follow Josh Feldman on Twitter: @feldmaniac
Have a tip we should know? tips@mediaite.com
Josh Feldman - Senior Editor