Jon Stewart Mocks Fox News' 'Media Sh*t-astrophe' Over Hilary Rosen's Mom Comments
Stewart Mocks Fox's 'Media Sh*t-astrophe' Over Hilary Rosen's Mom Comments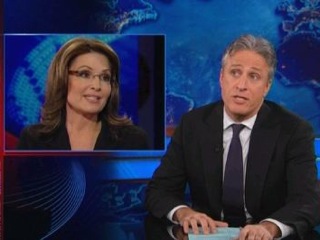 Jon Stewart returned this weekend to a perfect Daily Show style scandal: the Secret Service hired prostitutes and some were kicked out of Colombia! The puns were ready, the jokes low hanging fruit, and yet he had to let it go to focus on what the media was paying attention to: "last week, some lady said a stupid thing." The "full on media shit-tastrophe" after Democratic commentator Hilary Rosen said Ann Romney had not "worked a day in her life" yielded much to make fun of for Stewart, particularly at Fox News, where Sarah Palin even brought out a "hoohah" pin during the firestorm.

RELATED: 'ZimDecision' 2012: Jon Stewart Slams Trayvon Martin Media Circus
Stewart began with some jokes about the Secret Service scandal– "You told me this was a GroupOn deal!"– he noted that "this story should be dominating Congressional hearings, comedy shows, everything," but Hilary Rosen got in the way. While he found the attacks on all sides and from all networks shocking, it was Fox News' relentless attack on Rosen– from the Palin "hoohah" pin to the hours and hours of "war on moms" rhetoric– that Stewart found the most interesting. This, he explained, because "Democrats seemed stunned by the reaction."
Stewart explained there was nothing to be shocked about. "For months, the Republicans were tearing each other apart, and the media was watching that… no matter what Democrats thought or said, nobody gave a shit!" With Rick Santorum leaving the election, the general election starts, and "all the firepower the right was wasting on each other has been retrained on their actual opponent."
He left off on the note that, somehow, "Mitt Romney can now campaign on motherhood being hard, probably the only thing he hasn't flip-flopped on." Except, of course, that there is always a tape with Mitt Romney.
The segment via Fox News below:
Part 1:
Part 2:
Have a tip we should know? tips@mediaite.com