Jon Stewart Mocks NFL Referee Dispute By Having Patrick Stewart Replace John Oliver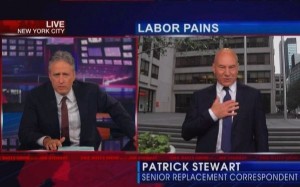 The Daily Show mostly keeps viewers abreast of the latest political news, but tonight Jon Stewart opened the show looking at the wide world of sports. Specifically, the NFL lockout and the replacement referees who have made some… unpopular calls (to be charitable about it). And in keeping with the theme of going on strike, Stewart's correspondent bit of the night was done not with one of the regulars, but instead a replacement correspondent, who turned out to be more than the show had bargained for.
Stewart introduced the segment as being about a serious labor strike involving important jobs. No, not the Chicago teachers' strike. And not the riots at the Foxconn factory in China. No, the National Football League bringing in replacement referees in the midst of a dispute between the owners and the normal refs. Stewart couldn't help but notice how the NFL labor dispute has been getting more attention than previous labor disputes.
Stewart lamented that the bad call made during a Packers-Seahawks game on Monday resulted in him losing a bet and having to parade around in a Seahawks jersey and a thong. Of course, it wouldn't be The Daily Show without some reference to politics, and Paul Ryan connecting the labor dispute to the Obama administration did it. Stewart mocked Ryan's logic, saying that one could easily connect Jerry Sandusky going to prison to "the person really raping America's children… President Obama."
But the surprise of the segment came when Stewart tossed to British correspondent John Oliver, only to find none other than Sir Patrick Stewart standing in his place as the "senior replacement correspondent." Stewart (the British one) mixed the powerful rhetoric of a Shakespearian monologue with trite phrases like "toad in the hole" and "up your bum."
The British Stewart explained that the Daily Show correspondents have gone on strike, and are temporarily being replaced by actors like himself and Mandy Patinkin. Stewart (the American one) found one little flaw in the plan, telling the other Stewart, "you're better than them."
Of course, Oliver was quick to run onto the set and beg to be taken back. Stewart initially refused to leave, until Oliver told him what the yearly pay was, to which the dramatic actor responded, "No fucking way."
Watch the video below, courtesy of Comedy Central:
Part 1:
Part 2:

—–
Follow Josh Feldman on Twitter: @feldmaniac
Have a tip we should know? [email protected]
Josh Feldman - Senior Editor