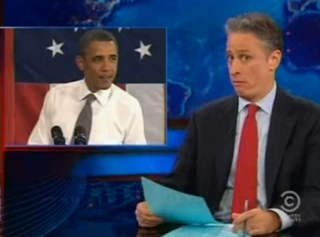 President Barack Obama took the first trip of any sitting president to Puerto Rico this week since John F. Kennedy, and during his four hours on the island took plenty of time to attempt to pronounce the names of staples in Puerto Rican culture. Needless to say, Jon Stewart had a field day with the amount of effort it took the president to pronounce "arroz con gandules."
Stewart first joked that President Obama's escape to the island was precisely to get away from the traffic due to the New York Puerto Rican Day Parade this weekend, though he only spent about half a day there. The President spoke to the crowd at his speech about how "boricuas" enriched the country, name-dropped some Puerto Ricans celebrities, and barely managed to pronounce the traditional dish "arroz con gandules." Close enough, no matter how much effort it took, it seemed Stewart concluded.
Stewart then turned to the show's "senior Latino correspondent" Al Madrigal, who attempted to explain how Latin Americans aren't a unified political constituency– for example, "Mexicans want immigration reform so they can stay in the country; Puerto Ricans want immigration reform to keep the Mexicans out"– and that the old days where you could "just throw a campaign ad on Telemundo" are long gone. Today, he explained, wearing the wrong color guayabera (ironically somewhat mispronounced by Madrigal) could do serious political damage, and mixing up the types of Latin American rice could win or lose an election.
The segment via Comedy Central below:
Part 2
Have a tip we should know? [email protected]