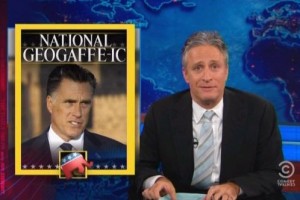 After covering Mitt Romney's trip to England yesterday, Jon Stewart hoped against hope that Romney's visits to Poland and Israel were not marred by any embarrassing gaffes. Instead, he was bewildered to find that a spokesman for Romney scolded members of the press for being disrespectful at a holy site whilst simultaneously telling them to "kiss my ass."
RELATED: Jon Stewart Tears Apart NBC's Olympic Edit, Links It To Romney Comments
Stewart first mocked the reporters for "testing the line between questions and heckles," before mocking the spokesperson's cognitive dissonance by adding, "Have a little decorum, you cocksucking pieces of shit! This is sacred motherfucking ground! Now, why don't you and your friends go eat a dick?"
He observed that Romney faced "trouble in England for answering questions [and] trouble in Poland for ignoring questions," and prayed that the third country Romney visited was not a place where people are easily "prone to complaining." Naturally, it was Israel, and Stewart's hopes were dashed once again.
Stewart sat with baited breath, wondering how Romney would mess up in Israel, and while at first he was relieved that Romney was overly complimentary of the Israeli people in his speech, he then brought up the controversy over Romney's remarks about the Palestinians that did not go over well. As Stewart observed:
"Romney appears to be saying that the Palestinians are purely the architects of their own poverty, or, if you prefer to look at the converse, that Jews are culturally some money-making motherfuckers. Either way…"
And as for the cultural differences between the Israelis and the Palestinians, correspondent Al Madrigal was on hand to lay them out, critiquing the Palestinians for having rubble practically everywhere and putting up walls all over the place.
Watch the segment below, courtesy of Comedy Central:
Have a tip we should know? tips@mediaite.com
Josh Feldman - Senior Editor