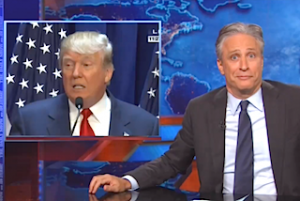 Jon Stewart sat down for a Q&A this week to discuss the new book telling an oral history of The Daily Show, and he had a lot to say about the idea that he could have stopped Donald Trump if he was still on The Daily Show.
There have been a lot of thinkpieces in the past few months about the power of satire in the age of Trump and a lot of people wondering if Trump could have won if Stewart had still been in late night.
According to The Hollywood Reporter, Stewart addressed this while speaking with New York Times critic James Poniewozik. See if you can detect the sarcasm:
"We were the destroyers of men and creators of empires. I think that generally is satire's role and has always been: the rise and fall of civilization at our whim… I would have probably allowed Hillary to come a little closer in the Rust Belt, but I still think I would have given Michigan to Trump. I had a little something going on where I was going to give [Al] Gore Florida. There was a bit we had planned that was going to hand Florida to Gore."
Stewart also echoed sentiments that John Oliver expressed after the election: it's not enough to just pass around videos in your bubble laughing at other people.
And for as much as Stewart thrived on mocking cable news (CNN in particular), he doesn't really subscribe to the idea that the industry is to blame for Trump either:
"Trump didn't happen because CNN sucks. CNN just sucks. He happened because that's the push and pull of this nation at all times. It's a push and pull between nativism and a more inclusive multi-cultural approach. It's a country that writes in its founding document all men are created equal but only white men who own property can vote. That's the earliest contradiction, and we've been fighting that battle ever since."
Stewart also sounded off on the rise of fake news and Fox News before concluding, "News organizations that lost their credibility and authority because they were not careful enough about introducing toxic and poisoned information and laundering it into a system devalued the authority of real supposed news sources to the point where people are frustrated enough to elect a man who stands for what he stands for."
[image via screengrab]
— —
Follow Josh Feldman on Twitter: @feldmaniac
Have a tip we should know? tips@mediaite.com
Josh Feldman - Senior Editor