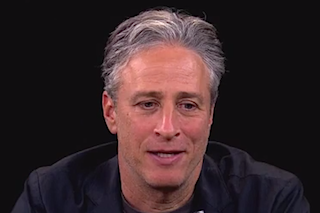 Following his sit-down with Jake Tapper on CNN this afternoon, Jon Stewart will appear on Charlie Rose's show tonight, along with the subject and star of his directorial debut Rosewater.
During the roundtable interview, Stewart addressed the criticism he has received from Iranian government over the film, which tells the story of journalist Maziar Bahari, who was jailed and tortured after appearing on an episode of The Daily Show in 2009.
"I haven't been on Rotten Babaganoush yet," Stewart joked, before saying that Iranian TV has produced some news pieces about the movie that claim he is associated with either the CIA or Mossad. "I'm one of the few people who have been accused of being Zionist and anti-Zionist," he said. "It's a Venn diagram that when it comes together, there's only like three of us in there."
Last December, long before anyone had seen Rosewater, Iranian state TV was accusing Stewart of producing "anti-Iranian propaganda" that had been manipulated by the "Zionist lobby." Months later, Stewart was taking heat for segments he did on The Daily Show that criticized Israel.
"Look, there's a lot of reasons why I hate myself — being Jewish isn't one of them," Stewart said in August. "I've made a living for 16 years criticizing certain policies that I think are not good for America. That doesn't make me anti-American. And if I do the same with Israel, that doesn't make me anti-Israel."
Later in the Charlie Rose interview, Bahari compared "hard-line conservatives" in the United States to the Iranian regime, saying "both extremists are going to find things in the film to criticize."
Watch video below, via PBS:
[Photo via screengrab]
— —
>> Follow Matt Wilstein (@TheMattWilstein) on Twitter
Have a tip we should know? tips@mediaite.com