Jon Stewart: Obama's Winning Because Closer We Get To Election, 'Dumber' Romney Gets
Stewart: Obama's Winning Because Closer We Get To Election, 'Dumber' Romney Gets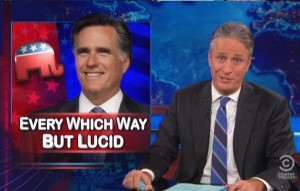 On Tuesday night, Jon Stewart took a critical look at President Barack Obama's decision to forego one-on-one meetings with world leaders while the United Nations General Assembly is in New York City. Looking further into the dynamics of this campaign cycle, Stewart deemed Obama "the luckiest dude on the planet." Because without Mitt Romney (read: the gift that keeps on giving), he'd be in trouble.
Stewart kicked off his segment, "Barack Obama Is The Luckiest Dude On The Planet," by observing that in an ordinary election, given the current circumstances — stagnant economy, global unrest, etc. — the incumbent would be at a tremendous disadvantage.
Unless…
His opponent is the same guy who appeared to suggest not needing health care reform for uninsured Americans because we have emergency rooms. (Despite previously calling such a mentality irresponsible and socialist.)
But that was only one of Stewart's examples, which led him to a rather sad conclusion: "Whatever his missteps are as a candidate, Barack Obama is surging in the polls because the closer we get to the election, the dumber Mitt Romney appears to be getting."
That allowed a segue into criticizing Romney's conflicting remarks about issues such as his economic proposals, overpaying taxes and redistribution/Medicare.
That's why Obama is the luckiest dude on the planet, he remarked. But then you've got to wonder how Romney got so far in the first place.
Cue a priceless montage of The 2012 Republican Primary Race's Greatest Hits.
And that, he said, is why Mitt Romney is the second luckiest dude on the planet.
Take a look, via Comedy Central:
Part 1:
Part 2:
Have a tip we should know? tips@mediaite.com