Jon Stewart On Birth Control Opponents: 'Liberty For Employers, Employees Can Go F*ck Themselves'
Stewart On Santorum: 'What The Hell, America? I Leave You Alone For One Week!'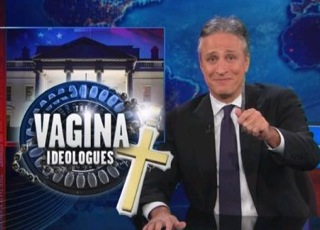 A lot of things have happened in the past week that Jon Stewart was off on vacation. The most recent and jarring, of course, was the death of Whitney Houston— which, if you were in New York, you may have found out about from a roving CNN reporter going around making people sad. But the biggest story of the week was definitely the rise of Rick Santorum, and with him a national debate on whether religious organizations should have to provide birth control to employees as part of their insurance.
RELATED: Jon Stewart Takes On Trump Endorsement And His 'Mogul-Shaped Hole In My Heart'
Stewart opened the show with clips from CNN's coverage of Houston's death, which consisted in part of a roving reporter going around, as Stewart described it, "town crier style," handing out the news of Houston's death "the same way in Times Square they pass along nail salon coupons." He then tried to turn to the Republican primary, with full confidence that Mitt Romney was the man of the hour, and finding that Santorum had swept Tuesday's primaries. "What the hell, America?" Stewart scolded. "I leave you alone for one week. One week!" He joked that he expected America to "maybe have a party, invite Mexico over, draw a penis on Canada's head while it's sleeping… but making this guy the frontrunner? Oh, man."
Stewart predicted accurately that "now we're just going to start fighting about religion and public policy again," and turned to the health care mandate debate, and particularly to Santorum's response to it. "Rick Santorum takes issue with the President using the arm of the government to impose his values," he noted, following that observation up with some clips of Santorum demanding the government impose cultural values on individuals.
Stewart then saw a slippery slope argument to the one the Catholic Church was making– any employer could claim they just "didn't believe" in some sort of health care (say, a Church of Scientology member believing in prayer or a sports coach believing in "walk it off, you pussy"). "I am an employer," he noted, "and I personally believe in the healing power of comedy," spraying a writer who had the flu with a pressurized canister of water, for laughs. To those opposing the mandate, Stewart concluded, "liberty means liberty for employers, employees can go f*ck themselves."
The segment via Comedy Central below:
Have a tip we should know? [email protected]