Jon Stewart On Bret Baier's Interview With Romney: 'Mitt Romney Is His Own Mistress'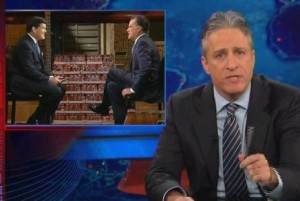 Thursday, The Daily Show's Jon Stewart shared the secret of why it is that Mitt Romney doesn't seem to give nearly as many one-on-one television interviews as his GOP rivals. The man is clearly undertaking The Marilyn Munster Strategy!
"Romney appears only in debates," Stewart explained, "surrounded by Munsters, aka the other Republican presidential candidates. And instantly, voters think, 'Hey, the pretty one seems normal.'"
That all changed, of course, when Romney sat down for an interview with Fox News' Bret Baier inside an abandoned jelly mine. (Or, Stewart jokes, the bunker Glenn Beck left behind.)
Stewart, of course, made sure to mention Baier's appearance on Bill O'Reilly's show, where he shared that Romney had grown "irritated" over their interview.
RELATED: Bret Baier To O'Reilly: Mitt Romney Thought My Interview Was 'Overly Aggressive'
Stewart then teased (He did! It was teasing!) Romney for not sharing the "fun book" he's reading, as well as for naming the same book he purported to have "just read" six months ago.
The real ("real") issue at hand, however, is Romney's defensiveness over being asked about having changed his stance on various issues since his time as governor of, as Stewart put it, a liberal state. "Where have I seen that evasive, defensive attitude before?" Stewart mused. Answer: Herman Cain discussing allegations that he had a mistress for over a decade.
Stewart's conclusion?
Just like Herman Cain, Mitt Romney has had an embarrassing person in his past who he's desperately trying to hide. For Herman Cain, it's a woman named Ginger White. For Mitt Romney… It's Mitt Romney.
Have a look, via Comedy Central:
Have a tip we should know? tips@mediaite.com