Jon Stewart On Gore's Current TV Sale To Al Jazeera: First Fox News Boner Alert Of 2013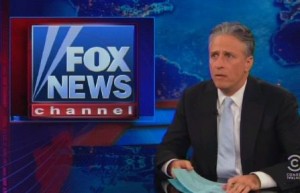 Jon Stewart tackled the sale of Current TV to Al Jazeera tonight, and as soon as he realized the players involved, Stewart declared this story to be the first official "Fox [News] boner alert of 2013," mocking the network's exaggerated and even hypocritical attacks on the international news network.
RELATED: Glenn Beck On Current TV Offer: It's A 'Badge Of Honor' That Al Gore Finds Me More 'Loathsome' Than Al Jazeera
Stewart summed up the story as a "former Democratic vice president turned climate changed crusader sells openly liberal cable channel to Muslims." And with all those buzzwords in the same sentence, Stewart officially celebrated the "first Fox boner alert of 2013."
He conceded that Fox News had a "legitimate point" about the ardent environmentalist selling Current TV to a network financed by an oil nation. And regarding Gore's inability to get the deal done before taxes went up on the whole country, Stewart couldn't help but wryly point out that this isn't the first time Gore tried to get something really badly, but narrowly missed it on a numerical technicality.
But getting back to Fox News, Stewart ran clips of Fox News hosts attacking Al Jazeera as an "anti-American" news network. Stewart acknowledged that Al Jazeera Arabic certainly fits that description, but said Al Jazeera English is a well-respected news organization. He ran a clip of someone making some very anti-semitic remarks on a news network that happens to be affiliated with Fox News chief Rupert Murdoch, and had fun redubbing the Fox News attacks on Al Jazeera with the Murdoch-affiliated network.
Watch the segment below, courtesy of Comedy Central:
Have a tip we should know? tips@mediaite.com
Josh Feldman - Senior Editor