Jon Stewart Mocks Pat Robertson's Call For GOP Candidates To 'Tone It Down'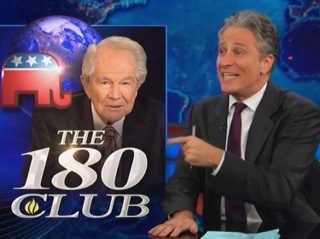 The Republican Party's rhetoric in the past year, particularly from candidates for president, has finally gotten to the extreme right– or at least to Pat Robertson, who surprisingly exclaimed this weekend that the candidates had to "stop this!" if they expected to win. After a quick recap of what "this" meant, precisely, and what extreme things Robertson deemed appropriate to say in public despite his calls for civility, Jon Stewart concluded tonight that the issue wasn't what they believed, but letting the general public know about it.
Stewart began his segment with the latest is eyebrow-raising comments from Republican contenders, with Rick Perry dabbling in birtherism because "it's fun" and Herman Cain's electric fence immigration joke– and those were just this week's comments. Stewart noted that all the candidates were "saying crazy things" with a helpful montage, and found it amazing that Robertson, of all people, "Pat 'Liberals Are Akin To Nazis' Robertson believes Republicans are a bit extreme." "It would be like Facebook saying to you, 'TMI,'" Stewart joked.
RELATED: Pat Robertson: GOP Base Is Becoming Too Extreme
Just as a reminder, Stewart then played several clips of Robertson's "greatest hits"– claiming the Haitian earthquake was a result of a pact with the devil, blaming gay people for basically all the sin in the world, calling for the death of foreign leaders, the works. Which begs the question: "why is Pat Robertson, AKA 'That Crazy Fucking Guy,' telling Republican presidential candidates to moderate their rhetoric?" Stewart concluded it was merely a product of wanting to win elections. "You're right," Stewart argued Robertson was saying, "but keep that our little secret… If you tell people what we honestly believe, an electoral majority of those people will freak the fuck out."
The segment via Comedy Central below:

Have a tip we should know? tips@mediaite.com